Plot: Writing a Blueprint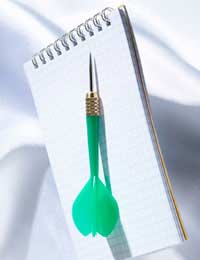 You've done your brainstorming, and now it's time to put pen to paper (or fingers to the keyboard). In a sense, writing a story is like building a house - it goes much faster if you draw up a blueprint first.
A blueprint is an outline of your piece - be it a short story, novel, or screenplay. It can be as general or as specific as you like; the idea is simply to get down in an organized fashion your plan for the piece.
If you happen to be working on a novel, it's good to know the key events before you even start to write. In a screenplay, being aware of the direction of each scene is even more important as the medium tends to be more limited (especially in length). In your blueprint, you will want to include all the information you consider critical to the story, as well as reminders on how you want to set things up. This may entail jotting down settings, character descriptions, actions, and key dialogue.
Below is an example of how one might structure a blue-print for a 10-chapter long novella about how a woman deals with her husband's cheating:
The Blue Sock
Chapter 1:
Open with Gail, (the main character) waking up in a strange room. Describe the scenery and her emotions of fear and excitement. She leaves a red sock on the pillow as she leaves.
Chapter 2: Gail and her husband Steve have an argument. She wants to know about his frequent "business" meetings and why the flight he claimed to be travelling on doesn't exist. He calls her crazy and storms out of the house.
Chapter 3: Gail waits up late for Steve, feeling bored and resentful. She watches TV, takes a bath, reads listlessly, then begins searching through Steve's dresser and later his computer files.
Chapter 4: Gail discovers emails in Steve's mailbox that are vague, but still raise suspicion. She writes to one of the senders, pretending to be Steve, and sets up a date.
Chapter 5: She goes to the restaurant to meet the email sender and sees the woman sitting on her own, checking her watch etc. Gail picks a table next to her, but does not speak, just observes. The woman looks like a college student, some twenty years younger than Steve.
Chapter 6: Gail and Steve are having a silent dinner at home when the phone rings. Steve is uncomfortable speaking to the person. It is the woman, asking why he stood her up. He pretends to be talking to someone from the office. Says there is an emergency and excuses himself. Says, "You can take care of yourself, can't you?"
Chapter 7: Gail follows Steve and sees him meet the woman at a café. She watches painfully, then has a flashback to the first time she met Steve. During Gail's flashback - Steve and Gail at a football game. He is amazed she likes football and they hit it off.
Chapter 8: Gail is already out, so she decides to have a drink. At the bar, she thinks back to the first time she suspected Steve was cheating on her. She was cleaning the bedroom when she found a blue sock under the bed. It was a woman's sock, but did not belong to Gail.
Chapter 9: Gail At the bar, she meets a man who seems interested in her. They talk about the football game on the TV. He invites her to his place.
Chapter 10: Gail is hyper-aware during her time at the stranger's house. She looks at her surroundings, trying to guess what he is like. They no longer speak, only act. She undresses deliberately, is conscious of everything she does. As she falls asleep alone in a guest bed, she smiles and says, "I can take care of myself."
The above blueprint gives a plan for each individual chapter, reminding the writer what has to be developed at each stage in the piece. How much detail to put in is a matter of choice - just as long as the key dramatic elements are there. This can save a lot of time during the writing process; whenever you get stuck, you can always refer to the blueprint to see where you are and where you want to go.
You might also like...
Im writing a blueprint essay. What is a life blueprint? A life blueprint is a plan to your future. Somepeople might think a constuction worker to build a house.
Cool jazz
- 8-Dec-16 @ 11:56 PM
I need a blue print. Step 1. Is? Step 2.? And step 3.?.... I have a beginning. Whats next?... I haveshort summary of my story but, how do I add, to it, and develope it. If your confused, how about me. Ex. Beginning, story, conflict, plot,...which comes first. Then so on...
Poker
- 23-Nov-16 @ 3:40 PM