Creating Suspense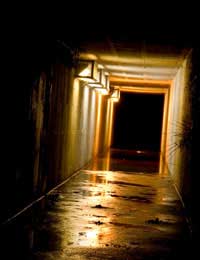 A truly suspenseful book, short story, novella, or other literary work is much like a theatrical performance. Just as a well-written and superbly acted drama keeps the audience on the edge of their seats until the curtain call, a suspense filled thriller should captivate the reader until the final word.
As an author, it can be quite helpful to think of your suspenseful work of fiction as a dramatic performance. In fact, you can use many techniques from playwriting to ensure that your book is a critical delight and not a forgettable flop.
Make Your Characters Pop!
In any great play, there are characters with whom the audience can relate. Whether they are lovable or loathsome, viewers find some speck of familiarity or general humanity within them. This keeps the audience actively engaged.
In a book, you want to have characters that are fleshed-out and real (unless you're writing science fiction; in that case, you don't need to have a real character, per se, but your character does have to consistently follow whatever personality you set for him, her, or it.) This means that whoever you invent has to be genuine in words and actions. The reader has to be able to envision the character; otherwise, it will be nearly impossible to keep your audience rapt long enough to build suspense.
We're Not in Kansas Anymore…
Just as your characters must be realistic within your story's world, so must your setting seem to make sense. Your readers must be able to see the universe through the narrator's eyes, smell the odours, and hear the sounds. Without solid descriptions, your readers cannot become entangled enough in your work to truly enjoy the roller coaster of suspense. Imagine watching "A Streetcar Named Desire" without any sense of the New Orleans setting; any suspense would be overshadowed by the sense that something major was missing.
Sometimes, authors tend to assume that the reader understands their fictional world as well as they; don't make that mistake, or it will be difficult to create suspenseful moments. Take nothing for granted - tell your setting well (but not redundantly).
What's Happening Here?
It's tough to build suspense if your plot is impossible to follow. Like a stage play, your work must have some kind of logic to it. If it doesn't, your readers might be too distracted by the complicated plotline to become involved in the suspense. Don't allow your style of writing to distract from what you want to say, and never presume that your readers will just "figure out" what's going on. You don't have to describe every movement; however, it's critical to tell the most important steps your characters have taken. Nothing spoils suspense for a reader like having to flip the pages of the book, wondering, "Did I miss something?"
The Door Slowly Creaked Open… Joshua Gasped as He Saw…
Finally, make sure that you build up to suspenseful climaxes within your work of fiction. Don't just spring a suspenseful moment on the reader without some kind of foreshadowing. Instead, think like the Bard himself; William Shakespeare certainly understood the necessity to build up to a suspenseful climax by feeding his audience tidbits of information during the first and second acts of his plays, then walloping them with the climax in the third.
Though you don't have to follow Bill's lead, you probably shouldn't start your work with an emotionally-intense scene. As in a dramatic theatre work, work your way up to suspenseful peaks. If you just keep hitting your readers with suspenseful moments without any context, you will only leave your audience perplexed, rather than engaged in the suspense.
When In Doubt, Farm It Out…
If you're not sure your work is suspenseful, ask a trusted friend or fellow author to read it. That's a surefire way to make certain that you have created a page-turner rather than a yawn-producer.
You might also like...