Creating a Narrator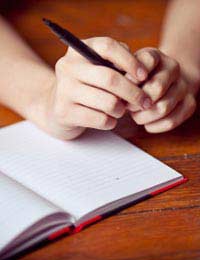 Whether you're writing a novel or a short story, or even a poem, developing a narrator can be a challenge. First person writing is one of the most powerful ways of telling a story but it means that everything depends on that one central voice. What you do with your narrator will change the way your readers relate to the story and what they get out of it. It can even affect the development of the story itself.
Goodbye Mary Sue
When you consider writing a story in the first person, the first thing you should be aware of is that many publishers simply won't accept such work from new writers. This is because a lot of amateur writers have a tendency to write 'Mary Sue' stories - that is, stories in which the heroes are basically thinly disguised versions of themselves.
This doesn't mean, of course, that a first person story has to be told this way, or that there are not occasions when first person narration is what's right for your story, What it does mean is that you should always be wary of projecting too much of yourself into your story. This can be a risk with all your characters, but it is a particularly easy mistake to make with narrators. Remember that your narrator is a character too and needs to be developed just as others would be.
In addition to this, it is important not to allow your story to be distorted because you become too strongly attached to your narrator. Writing from one person's perspective can easily lead you to identify with them, but a writer must always be prepared to be ruthless. If it is to be taken seriously, your work cannot be a fantasy about how you would like your life to be, and it cannot be a fantasy on behalf of a narrator you have fallen in love with.
Insiders and Outsiders
A narrator does not have to be a central figure in your story, and many narrators are largely or completely invisible in the stories they tell. Writing in the third person implies the presence of a narrator whom the reader never meets. Whilst third person narration may seem neutral, what it does is to introduce your own perspectives and prejudices - or those through which you have chosen to filter the story - rather than making them more explicit by attaching them to a character.
There is a fine line between third person and first person narration. It's possible to create a story where the narrator is only revealed as a character partway through, or at the end. A common example of this is when a story features a child who turns out to be the narrator - grown up, many years later - who has been telling the story as they remember it. This can be a useful technique if you want readers to look back and question the perspective they've applied to events.
Even with a straightforward first person narrator, it's up to you how much you want to involve them in the story. Sometimes a narrator is on the edge of events, observing and reporting, though this doesn't mean that those reports won't be coloured by their views. On other occasions they're an active player in the unfolding drama. Think carefully about the different limits this can place on you in developing your story.
Multiple Narrators
Sometimes it's useful to bring multiple perspectives into a story, either because you want to look at events indifferent ways or because you want some of the action to take place in places where your initial narrator won't be. Using multiple narrators is a good way of doing this, but you should always think carefully about how you justify them. Simply switching between voices can be confusing for readers and can seem pretentious.
One technique that makes it easy to use multiple narrators is telling your story through a collection of reports or documentary sources, ostensibly written by different characters. You can present these directly or have them tied together by a central narrator, which often helps to give readers somebody to identify with.
If you use multiple narrators, be careful to give each one their own distinct voice and personality.
Unreliable Narrators
Finally, remember that, just because a particular character is your narrator, it doesn't mean that everything they say is true. Nor does it mean that they fully understand what they're talking about. Having an unreliable narrator can add an extra dimension of mystery or ambiguity to your story.
Factors like mental illness or unusual religious beliefs can make even an intelligent, sympathetic narrator subject to doubt. Never trust any narrator completely, but let their idiosyncrasies enrich your story.
You might also like...
Have difficulty send and article to a correspondent or it arrive spoiled. Any help?
Leda
- 10-Dec-13 @ 3:02 PM
One of the best sites I have ever seen. I'm sure I will get plenty of advice from it.
redflag
- 16-Aug-11 @ 8:57 PM