Writing Romantic Poetry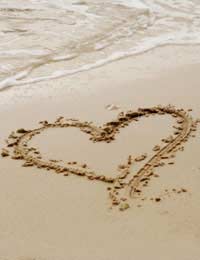 Romantic poetry is often the first thing people try writing on their own initiative. Most go on to be embarrassed by their early efforts, and not just because they're a reminder of adolescent crushes perhaps best forgotten, but that doesn't mean there's no place for romantic poetry in later life. If you have read and admired other poets' work, how can you improve your own skills? What do you need to know to create something special that really expresses how you feel?
Sentiment and Sensibility
If you do feel awkward about your early attempts at poetry, the chances are that that's because it comes across as too sentimental. It's easy to confuse sentimental writing with romantic writing, but they are not really the same thing. Sentimental poetry relies on the writer's passion to give it life, and after that has gone, it seems overblown. Good romantic poetry communicates feelings and ideas that continue to feel relevant even in the absence of the passion that inspired it.
For this reason, romantic poetry should not be perceived as an excuse for excess. As a form, poetry depends on being compact, a distillation of ideas. Your romantic poems will be more effective if they are pared down. Pruning unnecessary adjectives will make it easier to appreciate the central message. There is nothing dishonest about applying your intellect to romantic ideas, and spontaneity isn't always the most effective way to express your feelings.
Developing Your Idea
Every poem begins with an idea. If you love somebody and want to say so, that's an idea worth exploring. If you want to make your poem stand out, or want to write multiple poems, it's still worth expanding on that idea. What is it about that person that you love? How do you identify and experience that feeling, and what does it remind you of? How does your love fit into the wider world?
It's also possible to write romantic poetry that isn't about a particular person. The notion of romance, in poetry, can incorporate a focus on the emotions and imagination, a love of natural things and feelings, and a rebellion against established ideas. In particular, romantic writing rebels against formal and restrictive traditions. This means you can take a romantic approach to a variety of subjects.
When you begin, it can be helpful to write down everything that comes into your head, but the real art of poetry is in revision. In romantic poetry, this means not only making formal, structural revisions, but paying careful attention to the way you have expressed your feelings. Strength of feeling is not as important to successful poetry as subtlety and precision. If there are things you're emotionally uncertain about, these can make good subjects to explore in romantic poetry.
Structure
Because of the rebellious nature of romantic poetry, it is common to break away from traditional forms, but this doesn't mean the only appropriate way to write is in free verse. The important thing is to choose the write structure for what you want to say. Traditional forms like sonnets can work well if you're focusing on language and wit, but may not work as well as a format for free-ranging ideas.
When you feel passionately about your subject, it's easy to find yourself thinking about it in a wide-ranging way, making lots of comparisons and associations. This is not a bad thing in itself, but be aware that it's easy to overwhelm a poem with multiple metaphors. Try to build your structure around just one or two, saving others for further poems.
Historically, some of the most famous and popular romantic poems have been very short ones. If you use language concisely and effectively, there's no reason why your poem needs to be long, but the important thing is to make it the right length for your idea. Never pad a poem with tangential material. Keeping it tightly focused will maximise its impact.
Writing romantic poetry can and should be challenging. It's a good way to develop your wider writing skills and it can be an effective way to learn more about yourself as a person.
You might also like...
?? ????? ??? ???? ?? ??? ??? ??? ???? ???? ??? ?? ?? ??? ?? ????? ??? ???? ????.. ..
Shizuka
- 20-Jun-20 @ 3:36 AM
Thank you for the poetry information. I about to begin a poetry assignement. This will be a great help to me. as is all your informationbest wishes Molly
molly
- 18-Nov-11 @ 8:20 PM