Financial Implications of Becoming a Freelance Writer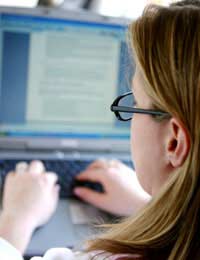 Patience is most definitely a virtue for the freelance writer. You may well have fulfilled the requirements of the brief and met your deadlines. The client may be delighted with the results, but that doesn't necessarily mean that the cheque will arrive with the same efficiency.
For those relying solely on their writing for income, this means it's a case of becoming accustomed to financial insecurity. The days of that reassuring end of month wage slip are a thing of the past.
And like it or not, this is all part of the everyday lot of the writer. Some embrace it, basking in the insecurity because it provides a healthy alternative to the more mundane existence of the "wage slave". However this is an attitude that is much easier to adopt should there be a second wage earner in the house and there are no children to feed, clothe, educate and amuse.It may be tempting to pity those so-called wage slaves but they don't have to generate the work before they can do it and that is where a lot of the time of the writer is taken up - hunting commissions.
Steady Stream of Payments
You will have to combine the jobs of company boss, line manager, company accountant, and employee, ensuring that not only is the work secured and completed on time but that the business is ticking over through a steady stream of payments.And while you are keeping a check on the payments side, it is a good idea to retain the services of an accountant, to not only advise on national insurance contributions but also on the issue of keeping all receipts so that expenses can be offset against earnings when it comes to filing a tax return. This side of the freelance writer's existence is anything but romantic. Nevertheless it is an essential part of being self-employed and should not be overlooked before deciding to take the plunge into the business.
Don't Splash the Cash
So far, we've covered insecurity and red tape. Any other good news before I slit my wrists, I hear you ask. Well, there are the peaks and troughs of activity, too. Rather than a consistent supply of commissions, it is all too likely that one month may be busy, busy, busy, another the sound of silence may be the only noise emanating from the computer keyboard or typewriter. So don't be too hasty in splashing the cash from the good times, rather budget for the leaner times as this will allow you to spread your annual earnings evenly to take account of the regular outgoings.
Be Ruthless
The bottom line is that in becoming a freelance writer you have placed your destiny firmly and squarely in your own hands. Giving up the nine to five routine has plenty of attractions but there is a price to be paid, too. No longer can you switch off between shifts at the office, you are now your own boss, so be ruthless both with yourself and the finances if you want to make a success of your new career. Not only do you have to wake up and smell the coffee, you've got to find the money to pay for it, too.
You might also like...