Writing Articles for Agencies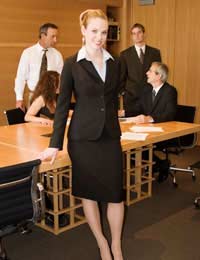 When you're starting to find your feet as a writer and you know you can produce good work, but you've yet to make many contacts among editors and publishers, the process of pitching and selling what you write can be time-consuming and exhausting. Writing articles for agencies is a great way to bring in some money without all that hassle. It can also give you access to varied work, helping you improve your skills and develop marketable experience.
Finding the Right Agency
There are a lot of agencies out there that claim to offer work to writers, so how can you choose the right one? Naturally you can't expect to be signed by a big, prestigious agency when you have very limited experience, but at the same time it's important to make sure you're not exploited.
The first rule is that you should never pay money to join an agency. It should be paying you - that's the point! There are a few agencies out there that offer useful additional services in exchange for money, but they all offer a free basic service and they should allow you to have a trial run of any extra services - to see if they're really worth your while - before you have to pay for them.
Beware of agencies that try to make you compete with or bid against other writers for the same jobs. A good agency will take you on, on the basis of your talent and experience, possibly asking you to write a sample article or two to confirm what you can do. It will then supply you directly with work. Choose an agency with a fixed or flexible work schedule to suit your needs and make sure you don't overestimate how much you can do.
Pay and Prospects
The bad news about agencies is that, in most cases, pay is relatively low. Work out how long it takes you to write a typical article and make sure you're getting at least minimum wage. Remember that if an agency wants you to produce good quality work it should pay you enough to let you take your time over what you do. Don't forget to budget for time spent researching as well as actually writing.
As well as paying you enough, it's important that your agency pays you on time. Having to chase up your wages takes away the point of working for an agency in the first place. Make sure you have simple, practical pay arrangements that are easy to keep track of, and that you know who to complain to if something goes wrong. If you work for an online agency, always make sure you know its real world address.
There is rarely much room to progress within an agency, though good regular work can sometimes result in you being offered larger contracts to produce custom work for particular clients. However working for an agency can give you the opportunity to try out different types of writing and to cover a number of different subjects, which is great for building up your experience.
Alternative Agencies
As well as agencies that can provide you with work, there's another sort of agency out there - one that specialises in selling old articles, often multiple times. This can be a great way to make money out of articles you failed to place or other articles for which you still own copyright.
Finding the right agency of this sort can be tricky, as each one has its own particular clientele, usually website owners looking for something to interest their visitors. You might need to try a few before you find one where your work sells, but as long as you're careful about the rights agreements you sign, you really have nothing to lose. once your work is listed with an agency like this, you don't have to do anything else - just sit back and receive the occasional payment.
Some writers actually make a living out of agencies like these by writing carefully targeted articles that are bound to be popular with buyers - for instance, articles that will make people want to buy particular types of product. These agencies are, as a rule, not much use for selling literary articles, but they can be a great option for copywriters.
You might also like...
I see you services are good. I'd like to be trained as a writer so that I can begin writing. thanks in advance. purity.
pure
- 27-Nov-14 @ 10:16 AM