Managing Your Finances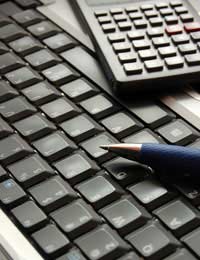 Self-employment sounds seductive but the realities of becoming your own boss mean that there will be no-one else to bicker about when some tough decisions need to be made.
Tough decisions? Like what for instance? Well, if you've suffered a disappointing month or you are waiting on a cheque for a completed contract, it is important that household bills are attended to before turning your attention to more frivolous items, such as booking a summer holiday.
On the subject of bills, whether you are working from home or renting desk space in an office, remember that computers don't power themselves. Printer paper may technically grow on trees but unfortunately it still has to be paid for. In short, if you don't have the basic tools to do the job, then business is going to go downhill pretty fast.
You should have a floating fund that can take care of the essentials while the business is being built. So look at your bills over, say, the previous 12-month period in order to get an idea of what your outgoings are going to be, and keep a record of everything that goes out.
Book-keeping system
The same is true of incomings. List completed jobs and whether payment has been received or is pending so that you have a full picture of both short- and mid-term finances. Ensure that this book-keeping system is kept up to date, otherwise it will be meaningless.
Many freelances find organising their finances difficult initially because when they were operating under the umbrella of a company, all this was done for them and they could concentrate on their editorial work. Now that this support network has been taken away, it can be difficult to come to terms with. But coming to terms with it is essential, and from day one.
In the first year, expect to be ploughing all the profits back into the business via bills and living expenses. If you find yourself treading water, remember you are doing better than many who have gone under, and if you enjoy a run of two or three months when business is booming, be self-disciplined enough to save save, save rather than spend, spend, spend. The lucrative periods of work are the ones that will protect you during the leaner times.
Current account
It is a good idea to hold an account with a bank or building society that is used only for business. Not only does this mean it is easier to see earnings in the shape of payments but also money that went out and where it went, for example payments for printer cartridges or paper. The alternative, conducting both business and personal transactions through a single current account will not only offer less clarity but provide extra temptation to spend money on items unconnected with the business.Clarity is also going to be very important when the annual tax return needs to be completed. Time is money for the self-employed, and spending too much of it attempting to make sense of income, expenditure and a box of receipts means less can be devoted to completing current projects and finding new ones.
You might also like...