Make Your Writing Worth the Effort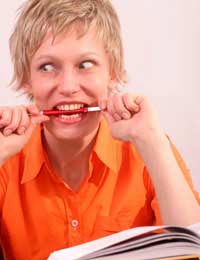 In order for you to become a prolific, professional writer, you need to write on a regular basis. However, there may come a time when you say to yourself, "Is this really worth it?"
At those moments, it's helpful to remember the benefits of writing. Check out some of the most common writing-related ones below and keep them in a handy place to remind yourself when you're feeling burnt out or ready to throw in the towel.
Writing Benefit: Catharsis
The written word can be a cerebral refuge for the author who needs a shot of intellectual stimulation. Thus, it can serve a cathartic purpose, filling the mind, heart, and soul of the writer who pens his or her deepest thoughts and most innovative imaginings and opinions onto a page.
Writing Benefit: Money
There's nothing wrong with good, old fashioned capitalism. If the idea of a paycheck (even a modest one that comes at irregular intervals and might never fully pay the rent or mortgage) excites you, that fact might just be enough to keep you motivated when you thought your brain was dry.
Writing Benefit: Change
If you write pieces that you expect others will read, you have the opportunity to be a tool for change. Thus, perhaps you can convince someone to join a cause or support a mission that you hold dear. For instance, if you have a strong belief in animal rights activism and your words inspire someone to donate to a local humane society charity, you will have created change through your writing.
Writing Benefit: Education
Writing is educating for both the author and his or her lucky audience. During the process of writing a piece (even about a topic you do not feel the need to research), you will undoubtedly learn something. And, of course, when someone else reads your words and ideas, he or she will have learned from you.
Writing Benefit: Power
Not everyone has the ability to write. (If you've ever worked in an office, look over some of the memos and emails that are sent by "professionals" - grammatical and structural errors tend to abound.) Therefore, if you have the talent to put thoughts and observations into a written format that is accurate, readable, and error-free, count yourself as a lucky (and potentially powerful) individual, indeed.
Writing Benefit: Networking
You never know whom you will meet when you write an article, short story, news piece, or novel. You may wind up interviewing a person who could become your lifelong friend; or you could impress someone with your skills and end up starting a business with him or her. Life tends to take you on amazing adventures; your writing might be the catalyst for many.
Writing Benefit: Wisdom & Acumen
You've heard it before: "Writer's write." And it's true. The more you put pen to paper or type on the keyboard, the better you will become at the art form. Your techniques will improve, and your words will carry more weight.
Writing Benefit: Pure Joy
When you capture a moment or an emotion with words, it's a thrill that non-writers can never understand. If you have chosen to write as a profession (or even a hobby), it's logical to assume that you get a shot of exuberance from the pure action of sharing memories, thoughts, or news with others. Remember that feeling of pure exhilaration the next time the doldrums threaten to invade your work space.
You might also like...