Blank Page Syndrome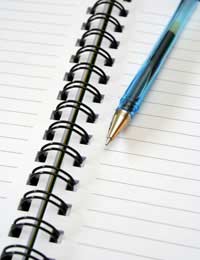 It happens to every writer at least once. You open your notebook or log on to your computer, ready to go. Suddenly, you're staring at an open space with nothing on it. Something about all that nothingness seeps into your brain, locking up your mental faculties. Horrified, you realize you've come down with a full-blown case of Blank Page syndrome.
Though you won't find it described in any medical textbook, Blank Page syndrome is as real as the deadlines against which you're pressing. It usually pops up without warning and leaves you with the dreaded fear that perhaps you've written all the words that were ever inside of you, that maybe there's not one ounce of imagination or intelligence left in your frazzled head.
What makes Blank Page syndrome so frustrating is that there are usually no symptoms. It can come after a weeklong bout of the most top-notch writing of your life, or it can rear its ugly head at 8:00 a.m. on Monday morning when you have a (yet unstarted) literary project due at noon.
Once you have Blank Page syndrome, it's critical to attack the invading disease without mercy. A few helpful hints for battling Blank Page syndrome are listed below. Use them to combat this illness so common among professional writers.
Let Go of the Shock
When you first diagnose yourself as having Blank Page syndrome, it's often a shocking realization. However, the sooner you release yourself from that anesthetising astonishment, the better off you'll be. Accept that you have been stricken; it's the only way to move on and reverse the situation.
Walk Away
So many writers with Blank Page syndrome simply sit, staring numbly at the white emptiness before them, which is counterproductive and hardly efficient. Instead, remove the blankness from your life by stepping away from it. Get a breath of fresh air, make some coffee, or just pick up the phone. Give yourself at least 15-30 minutes of space between you and the blank page.
Start Reading
Sometimes, you can jilt yourself out of Blank Page syndrome by reminding your brain that you ARE a good, proficient writer. Do this by scanning over some of your recently published (or unpublished) articles, letters, or chapters. While browsing them, allow yourself to remember why you chose certain words or phrases and how exciting it was to finish the project; this will jog your memory as to why you became a writer in the first place and infuse you with a sense of pride.
Get Back on the Horse
This is the step that's probably most difficult but ultimately holds the key to your recovery. Return to the blank page and just start printing or typing. Don't hesitate for one minute, lest Blank Page syndrome get hold of you again. By making such a bold move, you'll be taking control of your mental faculties and showing the blank page "who's boss"; you'll also be activating that centre of your brain that drives your imagination.
Ban Blank Page Syndrome From Coming Back
As mentioned before, Blank Page syndrome is a tricky adversary because you never know when it will pay a visit upon you. However, you can take a few precautionary measures to keep it at bay.
First, know what you're going to write before you open your notebook or turn on your computer. Whether it's just the title or first sentence, have something in mind and immediately put it onto the page. Voila! The blankness is gone.
Secondly, don't allow yourself to become too backlogged; deadline stress can create the perfect environment for a case of Blank Page syndrome. Though there will be times when someone throws a project at you last-minute, there are other times when you can organize your works to ensure you're not always writing under the proverbial gun.
Finally, remind yourself that a blank page is not an enemy; it's a canvas beckoning you to fill it with your own special brand of colour, texture, and style. It wants you to cover it with your creativity; so don't hold back. Be bold, be brave, and banish Blank Page syndrome for good.
You might also like...