Collaborative Writing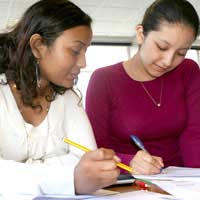 Many writers want to try collaborative writing at some point in their careers. For those who are new to a particular genre, or new to writing altogether, it can be a good way to learn the ropes. For more established writers it can provide fresh insights and challenges, or simply provide a fun way to explore shared interests with a friend. Whatever your reasons for doing it, understanding the dynamics involved can be a big help.
Why Collaborate?
It's possible to collaborate in any kind of genre, but there are some where it works especially well. One of these is comedy. Writing comedy with a partner - or a collaborative team - makes it much easier to know when you're managing to be funny. Of course, this only works if you adhere to one of the golden rules of collaborative writing - you provide constructive criticism and fairly evaluate the criticism that is given to you.
Collaborative writing also works especially well for scripts. This is because there are a lot of different things to consider when developing a script for stage or screen, and most writers are stronger at some than at others. It's also a big advantage to have somebody else on whom to test dialogue to make sure it sounds natural. Some writers like to approach this by taking on different characters and creating dialogue as a conversation.
The Right Writing Partner
What should you look for in a writing partner? Most people initially choose one of two options - close friends, or people whose work they admire. There can be difficulties with both.
Just because you get on well with somebody does not, unfortunately, mean you'll be able to write together. It's a bit like the clichés about best friends who falter when they try to share a house. Collaborative writing is an intimate endeavour in which you'll have to put up with a lot of small annoyances and you won't always get your way. Before you decide to write with a friend, sit down together and work out exactly what each of you wants from the project.
It can be a real thrill to write with somebody you admire, but sometimes that can mean that the collaboration becomes one-sided. In addition, you may find that you don't actually learn as much from a skilled partner as from somebody who is making mistakes like you are. If you are offered such an opportunity, make sure it's a situation in which you feel confident and will receive real support should you need it.
Dividing Tasks
Because most of a writer's tasks are still essentially solitary, it's unusual for two or more writers to work through every sentence of what they produce together. Sometimes writers decide to write a chapter each, in turn, and then polish each other's work; but this can be hard for new writers and can leave the finished work feeling uneven.
A more common way of doing things is to work on different tasks. For instance, one writer may specialise in developing characters and plot, and another in writing actual prose. Sometimes one writer will do most of the research or most of the dialogue. The first draft of a work may include highlighted gaps to be filled in later by a partner.
In a good writing partnership, you'll already have a fair idea of each other's strengths and weaknesses and you won't get jealous over who does what. It's a good idea to work out whose name will appear first on the cover before you start, or to toss a coin for it.
Resolving Conflicts
Like a marriage, a writing partnership relies on good conflict resolution to survive. This means you will have to be prepared to make compromises, even to the point of backing down when you're sure you're in the right. It's natural for writers to become passionate about their work, so realistic to expect that you will argue when you disagree about things like the direction a particular aspect of the plot should take.
A good way to keep this amicable is to do as much planning as possible in advance and try to minimise the potential for surprises. As soon as you start to feel uncomfortable or unsure about something, say so. Laying out a clear framework for this means no-one will feel like they're being nagged. It will keep stresses from building up until they become impossible to deal with.
Ultimately, the best way to overcome problems is to remind yourselves that you're both doing this for the same reason - because you want to produce a good piece of work at the end of it. Through collaborative struggle you'll also become better at identifying problems when you work on your own.
You might also like...
Yes, in these days when collaborate writing is in demand.it can be easily seen the differences of partners.i think all things that are mentioned in the article are important for a good partnership.
rajni
- 20-Feb-13 @ 6:04 AM