Research Starting Points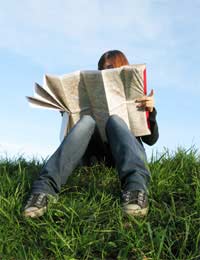 Everybody knows that a writer needs to do research, but what does that process involve and, perhaps more importantly, where should it begin? Many writers think they know only to find themselves out of their depths when it's time to get down to it. The good news is that there are more and more tools available to make life easier for the inexperienced researcher.
Researching Characters
When you're researching real people it's easy to start by searching for their name on the internet or in library databases. But what about when you want to do research to help you create a believable fictional character?
A good place to start is with a name. Think about the age and sex of your character and use free online databases to tell you what names were popular at the time they were born. You can use the same approach to tell you about their friends and family members. Then put the possible name and the year your work is set into a search engine. What are people called that doing now? Reading through the results will show you if you've chosen a name that fits with the right social class.
Where did your character go to school? Friends Reunited and Facebook school reunion groups can help you meet people who will tell you what that school was like at the appropriate time. What does your character do for a living? Search for companies doing similar things and write to them to ask for advice. Don't just read job descriptions - real people can always offer more insight.
Researching Places
When you need to research a location, a great place to start is with an online map. There are several available, each with slightly different features. If you know roughly where you want to set your work, you can use satellite images to help you pick out a suitable village, housing estate, beach or other area. You can then look up businesses in the area to give you an idea of the sort of place it is.
Promotional material aimed at tourists can give you a useful guide to the geography and facilities to be found in a particular location, and it's available for places where you might not expect it. You should, however, always treat it with caution, because it is trying to sell the place. Take a similar approach to estate agents' listings (for both sale and rental). The latter can be extra useful because they often show the interiors of typical homes in the area.
The very best way to learn about an area is to speak to people who live there. This will help you to avoid mistakes like the one Stephanie Meyer made in her famous Twilight books, where she looked up a real restaurant for her teenage characters to hang out in but didn't realise it was a gourmet venue with a much older, very different clientèle. Such mistakes don't always matter but they can potentially make your serious writing into a joke.
The easiest way to find real people who can tell you about an area is to use social networking. There are several online forums set up especially for writers, where you can help to answer others' questions as well as making your own requests for information.
Researching Events and Statistics
If you're researching an event in recent history, the best place to start is with newspapers. Online archives exist but don't go back very far, and in some cases you will have to pay to use them. Research libraries, however, often have archives going back many decades on microfilm. Anyone can access these and the librarians can help you to do so.
If you are researching older events, don't be shy about making contact with university history departments. Often they will be able to put you in touch with a relevant specialist who will be happy to talk about the period you're interested in. Historians are usually grateful to see books and articles researched properly.
Government records are another useful source of information. You will often be able to access them via a research library or the local town hall. The library will have a land register telling you who lived where when.
Government and academic resources are also a good place to get hold of statistical data. Census data can give you a picture of an area over time, and you can also contact government working groups and agencies, as well as charities, to get figures - old and new - about particular areas of society. You'll also find market research figures published online which can help to inform your writing.
Research may seem daunting, but once you get started, you'll find that the hardest part is not doing too much!
You might also like...