Learning to Think Like a Writer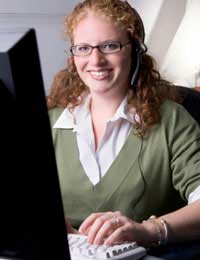 What's the difference between a real writer and a hobbyist who merely dabbles? A real writer understands that writing isn't just about what happens when they sit down at the keyboard. Writing is always a full time occupation, something that informs what you think and feel all the way through your day. When you learn to think like a writer, everything you encounter will take on a new significance and inform your work.
Paying Attention
How does a writer think differently from other people? It probably won't come as a surprise to you that a writer habitually pays more attention to their surroundings. This is important whether they are looking for story ideas for journalism or seeking inspiration for creating fiction. It also helps them to pick up interesting snippets of dialogue and observe how people interact. The important thing about a writer's attention is not just its quantity but its quality.
Of course, we all have to pay attention to our surroundings just to get by, but most of us do so at quite a superficial level. A writer doesn't just observe what's going on, but actively looks for explanations of why it's going on. Where there are no clear answers, a writer asks questions, because the questions we raise in our work can be just as important as the suggestions we make.
A good exercise as you learn to pay deeper attention is to spend half an hour in a public place trying to observe and remember as much detail as possible, then return home and write out your experience, developing questions and answers as you do so. Try to use all of your senses. Don't just think about what you see and hear (ambient sounds as well as speech), but pay attention to smells, tastes and textures, as well as to your own emotional responses.
Challenging Assumptions
Part of learning to pay attention effectively involves learning to take nothing for granted. The best writers can identify and challenge all sorts of things that the rest of us routinely ignore or subsume into the background of our lives.
Challenging assumptions effectively requires the development of critical thinking skills. You might find reading philosophy helpful with this (certainly once you have reached a more advanced level), but you can start by looking for the possible reasons why ordinary things happen as they do. What might motivate politicians to pursue particular courses, for instance, and are there other reasons beyond what is apparent on the surface?
A good writer is always aware that the personal is political and that the way we live our day to day lives is a result of ideological developments. Whatever you write about, it's always useful to read history to expand your understanding of social development. Think about human potential and the many different choices open to individuals at different points in their lives - why do so many of us make the same choices, and are they really inevitable?
When thinking critically, it is particularly important to identify and challenge your own prejudices. We all have them - deep seated ideas which it's uncomfortable to examine. The fact they're uncomfortable is often a clue to the fact that they're rarely challenged, so taking them on can lead us to truly fresh discoveries. In the end you won't necessarily find that you change your point of view, but you'll understand the reasons for it more fully.
Developing Sensitivity
There's no doubt about it - writing can be an emotionally draining career. If you learn to identify strongly with your characters or subjects, you will sometimes find it hard going - even wholly positive writing can sap your energy. But one thing a writer has to learn is not to shy away from negative feelings or avoid certain subjects for fear of feeling hurt. Your own emotional sensitivity can give your writing much greater depth.
As they get older, most people try to toughen up and not let themselves be too strongly affected by the emotional impact of the world around them. A good writer needs to break down some of these defences, or learn to accept their absence. This can be particularly difficult for men, who are socially encouraged to think of being emotional as a weakness. Just remember that it takes a brave man to take the risks necessary for literary success.
In maintaining the right level of sensitivity without being overwhelmed, it's important to pace yourself. Sometimes switching between different writing projects can help; sometimes you'll just need to accept that you need a break. Sometimes writing can be an outlet for stress accumulated in other areas of life. One thing is for sure: you are never really separate from your writing. Good writers live and breathe it.
You might also like...
I'm a young women who's graduated high school, and not yet been able to go to collage, but I have a passion for writing, and I want to become a writer. Do you have any advice for me, about learning techniques?
Shay_Marie
- 24-Oct-17 @ 1:44 PM
i amyoung man who recently finished his high school. i have that passion of becoming a writter but i am too vulnerable to publish my stories. advice me how to be a great writer
vanweha
- 12-Mar-17 @ 8:00 PM