Understanding Which Decisions Are Yours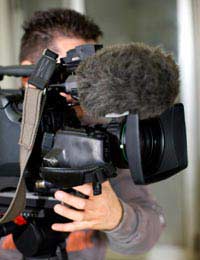 What makes a producer choose one script over another? Often it's not the gripping nature of the story or the genius of the dialogue, but more mundane considerations. Every producer has to work within a limited budget, with limited resources. By understanding the needs of the production and knowing what it is and is not reasonable to include in your script, you can create something whose easy-to-work-with nature gives it instant appeal.
Know Your Place
If, like many writers, you've learned to write scripts partly by reading other people's, then you'll know that it's not unusual for successful scriptwriters to include a lot of detail and description in their work. The important thing to note is that these are people at the top of their field, whose work is in high demand, and just because they can get away with it doesn't mean you can.
Early on in your writing career, you'll have to be willing to make a lot of compromises, partly because the people you work with really will know what they're doing better than you do. This doesn't mean you need to compromise on important ideas in your script, but it does mean that you need to give way to people at a technical level. Concentrate on story and dialogue and don't try to tell people how to arrange sets or frame shots unless it's crucial to the plot.
Characters and Settings
Generally, writers have a very strong sense of who their characters are and what they look like. Unless you are directing your own work, however, you will have minimal control over this area. Note what sex and roughly what age each character should be, and keep further description to a minimum. You should aim to build up character through story and dialogue rather than through the choice of actors.
If you are writing for the screen, don't expect your work to be filmed in a particular location. If an important monument like the Blackpool Tower is central to your story then naturally you can ask that it be filmed there, but because it's so particular, a script like that is less likely to be picked up. Producers like to maintain as much flexibility as possible when it comes to locations because costs can be high and shoots difficult to organise.
When it comes to interior sets, whether for stage or screen, try to describe only those things vital to the story - objects your characters interact with. You may feel that more description of the environment is important to the mood, but working out how to convey that mood is the set designer's job, not yours. What you can do is use descriptions such as 'a shabby bedsit' or 'a bright, clean hospital ward' to give the designer a starting point.
Stunts and Special Effects
Stunts and special effects can be expensive and difficult to put together, so it's wise to include only the minimum number you need for your story to work. It's a good idea to read up on how particular stunts and special effects are done so that you can get a good idea of what a producer is likely to consider reasonable.
Many inexperienced screenwriters today have an overinflated idea of what CGI is capable of. Don't assume that advances in this area mean you can include whatever you like in your film. Good CGI is still expensive and time consuming to create, and your first script is likely to be allocated a relatively low budget. Stick, where possible, to effects that can be created physically.
Some stunts in films are so common that we take them for granted and don't realise how much effort they can involve in production. Every time a character jumps off something high or gets into a fight, a stunt double may be needed. Car chases are difficult and expensive to film. If you can make your script exciting without resorting to such devices, it's more likely to be selected.
In Production
If you are lucky enough to have your script selected and get through the first stage of rewrites to accommodate the needs of the production, you can request to be present during rehearsals or initial filming. Not every producer will grant this, but some are happy to have writers on hand to give their input. Sometimes last-minute script changes will be required when things don't go as planned, in which case you can make yourself useful.
On set, the important thing is to stand back and not interfere unless you are asked to help. If there's something you need to say, wait for a break. Remember that the script now belongs to everybody, not jut you, and that success requires teamwork.
You might also like...