Establishing and Developing Character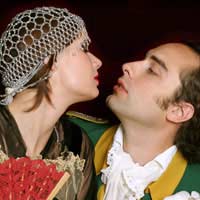 It's one thing to develop a character within a novel or short story, but what about when you're writing a script, where it's all about dialogue? What can you do to help the characters in your imagination transfer successfully to the stage or screen?
Basic Characterisation
As a writer you may begin a story by describing what your characters look like and how they present themselves, but as a scriptwriter, especially if you're new to the job, you will only have minimal influence over these things. You'll be able to state the sex and age of your characters, but after that you can generally only list factors vital to the plot, such as whether or not a particular character wears a uniform or is pregnant.
Faced with these limitations, what can you do? Unlike a novel, which often relies heavily on description, a script depends on action. Characters must be defined by what they do. Throughout the scriptwriting process you should be aware that, as well as telling a story, you are showing the audience who the characters are.
Characters are, of course, also defined by what they say. This isn't limited to the statements they make; you should also think about how they make them. What kind of dialect do they use and what does it tell you about their geographic and social origins? Is their speech slow-paced or urgent, shouted or whispered? You can tag passages of dialogue to indicate these things. Think about what different styles of speech might convey about a person.
Introducing Characters
Because of the immediacy of the experience of watching a film or play or listening to the radio, audience members tend to base a lot of their feelings about characters on first impressions. This means that a scriptwriter should think carefully about how each character is introduced.
A good way to approach this is to think about the most important aspect of each character. This will depend on their function in the plot - for a minor character the most important thing might be their profession, in which case you can introduce them talking about work or going about their professional duties.
For major characters, it's often more useful to develop audience identification or feelings than to focus on social background. A hero might be introduced saying something clever or funny that makes the audience identify with him. In a thriller or horror script, a character the audience needs to care about might be introduced in a perilous situation.
Once you have established a few characters like this, you can use them to establish others. Your audience will look closely at how established characters react to new ones and will interpret them in relation to what they have become familiar with. If your hero is suspicious of a newcomer, your audience will regard that character as suspicious too.
Developing Characters
Once you understand the basics of how characters can be established, you are free to play around with audience expectations. Be careful how you approach it - audiences need some constancy or they'll lose interest - but incorporating a few twists can work well. You'll find that they're accepted more easily if you hint at them in advance. For instance, we might observe that the heroine is nervous and think it's because she's frightened when actually it's because she's a spy.
In order to attract repeat audiences and make their work more entertaining, many scriptwriters incorporate ambiguous dialogue that could be interpreted in different ways depending on a character's real agenda. The important thing to remember when doing this is to make sure it still sounds natural, like something that person might really say.
Character agendas are usually not as simple and dramatic as they are in thrillers. In fact, every character has one, whether it's to get through the family dinner without an argument, to win the heart of the prettiest girl in school, or simply to deliver the post on time. Think about how your characters will behave in accordance with these aims. Use this understanding to show what's important to them rather than just having them state it.
Demonstrating who your characters are through action and dialogue does take practice, but it can be done very effectively. It can even inform your novel writing, helping you develop new techniques with which to produce more convincing and involving work.
You might also like...