The Scene-by-Scene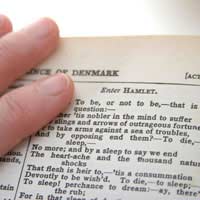 Synopsis and Treatment
Let's imagine that, from an initial script idea, you have already worked out a simple story synopsis, with beginning, middle, and end, and have an idea of the major characters and themes you wish to develop along the way. With your treatment, you will then go into greater depth, describing the "arc" of the main character(s) and the principle events that occur in the course of your story, serving to develop the characters and themes. As mentioned already, a treatment is not strictly necessary when it comes to hocking a script, but it can be useful with working on it. It is a highly effective way of determining the structure, form, and pace before actually commencing writing. (It is also a useful means to determine roughly the length of your script from the outset: most agents and companies won't consider anything that runs over 110 pages.)
It might help to think of the treatment as the infrastructure of your script, upon which you will build the edifice itself. Or, as roughly equivalent to a skeleton to which, in the process of writing, you will add the organs, muscles, veins, flesh, and finally the skin and hair, until you the finished work is ready to assume a life of its own (i.e., be turned into a movie).
The Scene By Scene
Plenty of writers go straight to script stage at this point, confident they can see clearly from here how to bring their baby to full growth. If you're inspired, there's certainly no reason not to. But for many writers, embarking on a full-length script, even with a solid treatment to support them, can still be somewhat daunting. One way to reduce the danger of writer's block or of coming off-track halfway through the work is the scene-by-scene.
The scene-by-scene is simply a list of all the scenes which will make up your movie, as they proceed in sequence, including the primary events (and even dialogue, if you're inclined) that make up these scenes. A script can have anything from fifteen or twenty to as many as a hundred individual scenes, and you will want to devote as much space to summing up a scene as it requires, which will be anywhere from a couple of lines to a full page. Since a scene-by-scene is just for you, it can be as long or as short as you need it to be. I recommend, for full coverage of each scene, a total of at least three or four pages. By this method, you will perform a kind of gradual "filling in" of your script, so that the work evolves less like a tree growing and more like a house being built. Beginning with the concrete (or timber) frame, followed by the wiring and plumbing, gradually extending to the walls (and any temporary scaffolding that is needed), the floors, stairs, doors, windows, and finally-once the structure is complete-the furnishing and decoration.
Filling in
It may be seen how such a project becomes progressively easier and more enjoyable as it proceeds. So it is with writing a script-provided that your basic structure is sound. Once you have all of the scenes adequately outlined and correctly placed, and once you have ascertained roughly how long your script will be (if need be adding or subtracting from the number of scenes), you may then proceed with the "filling" in. The advantage of this method is that now you have the luxury of not worrying about where the script is going, because you already know. You can take one scene at a time, as a separate work in itself.
The bulk of almost any script is always going to be the dialogue, and once you've established who your characters are and what developments need to occur in a given scene, you can start to figure out who is going to say what, and when, to move the action gracefully along. Of course, there may be non-dialogue scenes, but in this case your work is mostly done if you have adequately envisioned the scene already. And if you are lucky-or rather, if your original story keeps you inspired to the end-you will find that many if not most of these scenes have a tendency to "write themselves." Since you have already set the scene and know precisely where it needs to go to get to the next one, now you just have to let your characters do their thing. Release them into the milieu you have imagined and see what they do-only be sure and take notes! Any well-built house will let the new residents know what it most needs to increase the decor and comfort so they can feel fully at home there. In the same way, your script will tell you what it needs to realise its full dramatic possibilities.
You might also like...