Writing Short Screenplays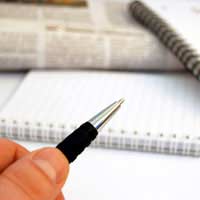 There is a common belief in amateur writing circles that writing short screenplays is mere practice for writing longer ones, that it's relatively easy to do and that it has no intrinsic value of its own. On the contrary, this type of writing requires specific techniques and real dedication, can be put to all kinds of practical purposes and can really boost your career. You should only think of it as practice in that any early piece of writing contributes to the development of those to come.
Writing short screenplays is an art in its own right; so what do you need to know to do it well?
Why Write a Short Screenplay?
Many people get into the writing business with vague ideas about how they want to write novels of screenplays for the sake of it, or because of the celebrity they imagine it will bring. Needless to say, this approach does not produce good quality work. If you want to write a short screenplay, think about what you want to say with it. How can you use the format to express yourself? Why does this particular idea matter?
A short screenplay can be a good way of making a concise, punchy argument - whether that's a political statement, a literary idea, or an amusing joke. It can also be a good vehicle for stylistic expression, especially if you want to direct the film yourself or work closely with your director. Like the short story, it can be a good format in which to make a character study or explore a particular setting.
Nobody makes any money writing short screenplays, but they can get attention, and can help you get your foot in the door in the film business. That said, there are a lot of them out there, so if you want this to happen you will need a strong idea and your writing will need to be of the highest quality. Like a poem, a short screenplay should be polished until it is perfect, every word selected with care. You should aim to distil your talent into concentrated form.
Developing Your Idea
In industry terms, a short film is anything under forty five minutes. Most shorts, however, are between ten and twenty five minutes in length. The best way to promote a short film is through competitions, most of which have strict limits on length, so if you're interested in submitting your work to these, think about those limits from the start.
Before you begin to write, consider the suitability of your idea for this restricted format. Can you properly develop it within these limits? A short screenplay has no room for subplots and generally you cannot get away with more than one twist. Because a lot of short films rely on twists, it's actually a good idea to avoid them altogether unless you can do them very well.
Once you have settled on a suitable idea, think about how many scenes you will need to explore it. In some cases the answer will be 'just one'. Set out your scenes in order with notes on what happens in each one. You can then refine them and start to develop dialogue (if you include dialogue - it is possible to write a script that doesn't). Keep your writing tight and focused. Remember that a short film is just a snapshot of a situation, so things don't always have to be naturalistic.
Illustrating Character
Short screenplays don't allow much room for character development or character arcs, so instead you should aim to reveal characters that are already complete in your head. It can be helpful to make a lot of subsidiary notes and to explore characters in your head, or by talking to the actors who will play them, before you start working on dialogue. Get to know them, but don't forget that viewers won't have access to this extra information.
In this condensed format you will need to use all the tools at your disposal to communicate character successfully - not just dialogue. It is usual for a short screenplay to include more detailed descriptions of character movements and gestures than might be appropriate in a longer work. You can expand this to make notes on things like sets and costumes, thinking of what they might say about your characters.
Remember that characters don't always have to be likeable. Your viewers won't have time to get bored so you don't need to worry as much about making them empathise. What you do need to do is to make a big impression. Strong characters are more important than nice ones, and you can get away with quirkiness and oddities that would risk becoming annoying in a longer film. It's all about impact and mood.
You might also like...