How to Write a Eulogy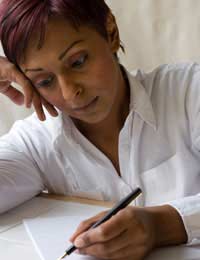 Writing a eulogy is a difficult business, whether you're showing respect for the dead or paying tribute to somebody who is still alive. It's important to present a record of accomplishments that is both fair and reasonable, not always the same thing. It's important to deliver the praise you want without going over the top and making it sound ludicrous. It's also important to strike a tone your subject would respect. So what do you need to know to get it right?
Understand Your Subject
Understanding the person you are writing about means not just being able to list their accomplishments but also knowing how they think. It's a good idea to begin by reading or listening to things that person has said directly so that you can get an idea of their priorities, their character and their sense of humour. You will want to reflect this character in your work even if they are not there to appreciate it - after all, it's part of what is being celebrated.
Don't rely on examples of people describing themselves - most people don't do this very well, and they may make things up, exaggerate for effect, or leave important things out due to humility. You may, however, find it useful to quote from them, either directly or by reflecting on the way they would tell favourite stories.
Talking to other people is also an important part of the process of researching a eulogy. Try to find people who have known your subject for a long time and people who have known them in unusual contexts, such as people who have shared their favourite hobbies. This will help you to appreciate the range of different perspectives people may have of them, and it will help you to pepper your eulogy with bits of information that its wider audience may be unfamiliar with.
Written and Spoken Eulogies
How you approach a eulogy should depend on whether it is intended to be seen in written form only or to be spoken. In either case it's important not to overextend yourself, but a spoken eulogy will often work at greater length than a written one. When writing a eulogy designed to be spoken you will need to pay more careful attention to rhythm and you will usually need to use simpler language - aim for emotional impact rather than elegant prose.
With a written eulogy it's important to keep the things you want to talk about in a sensible order (often, but not necessarily, chronological), whereas in a spoken eulogy there is more room for asides and meandering anecdotes, as long as you can clearly return to your point of focus.
The Personal Touch
Although sometimes writers are asked to compose eulogies for people they have only met a few times, it's rare to be asked to write one for somebody you haven't met at all. For this reason it is usual to be personal both in the topics you cover and in the style of language you use. Make a point of saying how you feel about your subject and try to recount some of your interactions, at least briefly, but don't let your story dominate theirs or elevate yourself above others in their lives.
Every eulogy should of course show some defence toward its subject but this doesn't mean you should be fawning. In fact, an excess of sentiment and praise is the easiest way to spoil a eulogy by making it seem insincere. Try not to be too flowery with your language and trim down your phrases to make sure that everything in them is directly relevant and informative. You can write elegantly without letting your words themselves distract from the images you create.
Eulogies for Living People
One of the trickiest forms of eulogy writing can be producing a eulogy for a living person - for instance, when they are receiving an award - as this person may hear or read it directly, potentially making them bashful and you self-conscious. To avoid awkwardness upon delivery or publication it's a good idea to run a draft by them first for their approval. With famous people an agent or secretary may take care of this.
In writing eulogies you will often find that people have very different impressions of themselves from those held by other people. This means that your writing skills may need to be supported by negotiation skills, but you will find this approach important in many other areas of writing too. When you get it right, you can make people very happy, even at difficult times.
You might also like...