How to Write a Letter of Complaint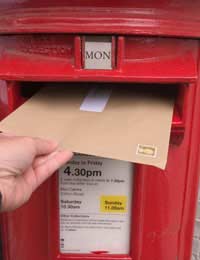 There's one type of correspondence that businesses, whether product- or service-oriented, can expect to get: complaints letters. And every company dreads poring over a poorly-written communiqué that demands retribution but says virtually nothing. It's frustrating for them and it's frustrating for you, too - otherwise, you wouldn't have written the note!
If you have a problem with a company or organisation and plan to write a complaints letter, make sure it doesn't wind up in the bottom of a rubbish heap but rises to the top of the decision-maker's desk.
A good letter of complaint focuses on the facts and leaves out emotions. It's succinct and non-threatening. It is also very professional.
But how do you ensure that your complaints letter has all those elements? By following these six simple steps:
After your bad experience, write down every detail you can think of - the product or service (name, model number, et cetera), date incident occurred, any injuries, amount paid for product/service, who was involved, and where the incident happened.
Figure out how the company can resolve your problem. Do you want a replacement product? Your money back? Vouchers from the company to be used towards future purchases?
Write a letter that addresses all of the facts, but keep the tone at a professional level. Above all, do not include any profanity (you'd be surprised how much this happens) or base language. Similarly, leave out threats; they will only make you appear to be a crackpot and not a legitimately unhappy customer or client.

After you've written your note, put it aside for 24 hours. This is critical! You need to distance yourself from the experience and read the letter after you've had the opportunity to cool down a bit. One day will not make a difference - the statute of limitations is unlikely to have run out during that timeframe.
Once the 24 hours has elapsed, re-read your note from the perspective of the business professional who will receive it. Ask yourself whether all the elements are covered - the who, what, when, where, and why of the incident plus any ideas for compensation.
Send your letter or email with confidence.
As a sample complaints letter that has all the essential elements described above, let's take the case of a roller blade that fell apart.
Dear Mr. Roller Blade Maker:

Last Tuesday I was rollerblading along the Rollerblade/Cycle track on the Promenade des Anglais in Nice, France on your blades (Model 4758B). I purchased these blades late last year and have used them approximately 12 times. They have performed well, look great and I have recommended them to many of my friends.

During this excursion, I noted that my right blade felt unusually 'wobbly'. About a mile further on, the entire right blade fell apart, having ripped from top to bottom.

Fortunately, I did not sustain any injury as a result of this incident. I am however left with a pair of blades that are no longer usable and I would like a full refund. This is due to what appears to be poor craftsmanship and the fact that my confidence in the product has been knocked. Had I been involved in more vigorous exercise, the outcome could have resulted in a potentially serious injury.

I notice that the 4758B typically retails for £49.99 however, I bought mine from your website on offer for £39.99. The invoice number for the transaction is RB22718.

Can you please let me know how I should proceed to obtain a refund for the full £39.99. I can be reached at 04273 633555 or by email at hotblader@abc.abc.

Thank you in advance for your help.

Yours sincerely,

Reggie Hotblade
As you can see, this complaints letter is neither too long nor too emotional. In fact, it's downright civil. The tone is forthright, but not aggressive; thus, the consumer is likely to hear promptly from the manufacturer of the roller blades.
Remember - although the squeaky wheel gets the grease, you don't have to squeak so loudly that you're thrown in the bin! Squeak lightly but decisively, and you'll be treated with much more respect.
You might also like...
denna - Your Question:
I want help writing a letter about an incident that took place at theGYM
---
Our Response:
I'm afraid we cannot help people personally - the template is given as a guide so you can construct your own letter around it.
ExploreWriting
- 17-Feb-17 @ 10:02 AM
I want help writing a letter about an incident that took place at theGYM
denna
- 16-Feb-17 @ 11:54 AM
how would you write a letter of complaint to a hospital it happed in 2004 and nowI have to have another op to try and put this righthopr you can help me Your sincerely Jean King
jeano
- 18-May-13 @ 2:37 PM
i now have experience writting a business letter
ghai
- 15-Apr-13 @ 1:22 PM