Use of Appropriate Tone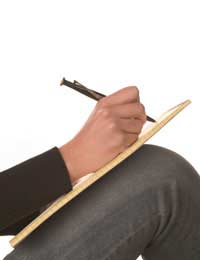 If you're writing an essay, you might be a little bewildered as to the best tone to apply for the piece. Here, we examine a few considerations to keep in mind when choosing the perfect tone for your manuscript.
What is the Topic?
By answering this question, you'll be able to better figure out what type of tone to use. For instance, if you're writing about a light subject, such as a new bistro or comedy, it might make sense to be humorous. On the other hand, if your subject matter is complex and data-driven, you may have to stick to a very technical tone. Additionally, if you're asked to write an essay on a beloved community figure who recently succumbed to cancer, you'll want to maintain a respectful, even warm, tone.
Where Will the Essay Appear?
If you're writing an essay for a sophisticated magazine or newspaper, you probably won't want to include too many puns or whimsical elements unless your editor has specifically requested them. Similarly, if your essay will run on a casual blog-style webzine, you probably want to remove all traces of "academia speak." Truly, if you're writing for the general public, it's better to sound like a best buddy rather than a tutor.
Who Will Read Your Essay?
Who is going to read your essay, and what do you want them to walk away knowing and/or feeling? If you wish to educate your audience, make sure your essay is highly informative and broadens their knowledge base. On the other hand, if you just want your readers to walk away with a happy feeling, the tone of your essay should be uplifting and less facts-driven.
What is Your Comfort Level as Author?
For some people, a very serious and investigative essay comes naturally; for others, it's agony. Your personal comfort as a writer will often drive what tone you use in your essays. If tongue-in-cheek observations are your strong suit, try to write on a subject where you can highlight your natural talent for witticisms. Conversely, if you prefer a very fact-based attitude, pick a topic area that allows you to talk about your information in an objective manner.
How Long Will the Essay Be?
Length can drive the tone of an essay; after all, it's difficult to write a very flowery, descriptive piece in 200 words or less. If you've been given a specific word count limitation, you might need to vary your tone accordingly. For instance, if you're assigned to write a review of a new children's toy, but you only have a few hundred words to do it, you're better off being very succinct and factual (though you can obviously be a bit subjective.) On the other hand, if your editor gives you carte blanche regarding the length of your essay on French shoe styles from the 1800s, you can be as elaborate as you feel befits the piece.
Never fear; there are many types of essays and many ways to write. Experiment a little and you're sure to find the best tone for your next document.
You might also like...
I found this article useful for my GCSE exams.
Serena97
- 8-Jan-13 @ 11:40 AM