Types of Essays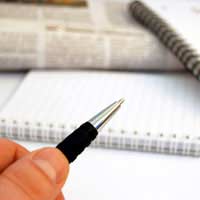 It seems rare to hear the term "essay" used outside of academia or literary circles; however, you might be surprised to learn that many journalists and writers actually use the art form frequently, though they might not consider themselves "essayists", per se.
Take a look at a few of the common types of essays noted below. And as a fun exercise, see if you can spot any of the essay styles the next time you're perusing your favourite newspaper, magazine, or website.
The Five-Paragraph Essay
This is truly the "old standard" in terms of western society's essay leanings. From a very young age, many school children are taught this style of essay whereby a thesis statement paragraph is followed by three supporting paragraphs and the whole piece is wrapped up neatly by a final concluding paragraph. It's functional, educational, and, unfortunately, typically boring to write and read.
As a professional author, you probably won't find much applied use out of this type of essay except as a refresher or a way of getting started on a larger project. In fact, most modern publications eschew the five-paragraph format in favour of more complex essay models.
Compare and Contrast Essays
These short pieces are a step-up from the five-paragraph essay. Basically, they take two or more concepts, items, works, et cetera, and discuss the similarities and variances between them. Unlike the five-paragraph essay, the compare and contrast model isn't regulated and can be tackled many different ways; thus, some writers choose to discuss their comparisons and contrasts point-by-point whereas others compare/contrast items one at a time.
Narrative Essays
If you enjoy writing stories, you've probably utilized the narrative essay style many times. These are usually first-, sometimes third-, person accounts of a biographical or autobiographical nature that tell the details of an event.
Narrative essay writing can lean toward the serious or humourous, and the ending of the essay may uplift, puzzle, or even challenge the reader. Many popular literary magazines publish narrative essays. If you're a particularly prolific author, you may be able to publish a collection of your narrative essays together as an anthology.
Critical Essays
The critical essay is a means for a writer to persuade or educate his or her audience about the strong points, weaknesses, and/or methods of a concept, thing, or occurrence. This type of short work is usually intellectual or academic in nature, though it doesn't have to be. Chances are that your local paper occasionally prints some editorial pieces that could fall under this category of essay.
Argumentative Essays
As you might expect, an argumentative essay tries to persuade the reader that a certain view or conclusion is valid. Consequently, powerful argumentative essays sway the audience because they stay on point; weak ones tend to ramble and leave the reader feeling fatigued and unmoved.
The secret to a good argumentative essay is to passionately explore a topic area without allowing your writing to become overly emotional and incoherent. In a sense, some of the World Wide Web's personal blog pages could be considered argumentative essays, especially those that systematically and analytically discuss political or social issues.
Other Essays
There are many other types of standard essays as well - cause and effect, definition, example, chronological, process analysis, academic, analytical, descriptive, process, thematic. Without a doubt, the essay possibilities are plentiful.
No matter which essay method resonates with you, it's important to remember that all essays are meant to enlighten, entertain, and/or educate the reader. Thus, you must treat your essay writing as you would for any article or novel; pay attention to the style, keep the ideas flowing, and eliminate all extraneous materials. The result will be an essay that would make any journalist proud.
You might also like...