Preparing an Essay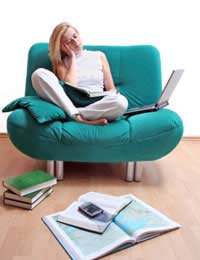 Many people feel intimidated when sitting down and looking at the blank page where an essay is supposed to be. It's particularly tough if your essay is supposed to have a high word count and you can't imagine how you're going to write enough. This is why an essay should never begin with you looking at that page. It should begin with careful preparation, so that by the time you sit down to write you already know most of what you're going to say.
Researching your Topic
Every essay has to begin with research. There are two types of research you should be doing: general research, looking at your subject; and specific research, looking at your topic. The balance of time and effort you put into each of these should depend on how well informed you feel about each to begin with. Never rely on your existing knowledge - always check to make sure you haven't misunderstood anything basic.
An essay is always stronger if it incorporates theoretical ideas belonging to other people (and clearly identified as such), showing the you know how to place your own ideas in context. You can draw on existing writing on your topic and on your wider subject for this. If you're short on time, look for books designed to provide an introduction to several theories.
Sometimes you will find yourself in situations where there isn't much existing writing on your topic. In this case you can look for parallel work in other areas. If you are writing an academic essay (for which you should try to use journal articles as well as books), you don't need to limit yourself to academic material. Just make sure that you're clear about what your reference points are and why you chose them.
Structuring your Essay
Having a solid structure for your essay before you start can make it much easier to approach. By working out the different things you need to cover, how best to arrange them, and how much time to spend on each, you can break the work down into manageable sections. This will also help to inform your research - think about how much you need to do for each section.
Once you have set out a structure for your essay, you can start writing, but don't leave writing until the last minute and don't expect to be able to do all of it at once. A good way to start is by sketching in the bones of your argument in each section. You can then work from your research notes and determine roughly where you want to introduce each important reference.
Using Quotations
Quotations can be very useful in an essay context. They not only show your familiarity with the source material, they help to make your writing more varied and interesting and to bring other personalities into it. They can also be very useful when it comes to structure.
Don't feel limited to using quotations that back up what you have to say. You can also select material you wish to challenge. Just be careful, if you do so, to make sure that it is in context and properly grounded. Nobody will be impressed by your work if you create easy targets to disagree with.
Once you have sourced some good quotations relevant to your argument, try to place them roughly within the essay structure you have developed. You can then structure your own arguments around them. You'll be surprised by how quickly each section fills out as you do this. Make sure you identify how the quotations fit into the theoretical framework you're using.
By preparing your essay in this way, you can break it down into a series of manageable tasks that allow you to use your knowledge and skills effectively. You might be surprised by what you're capable of.
You might also like...