Chapter 5: Marketing Your Book Part 2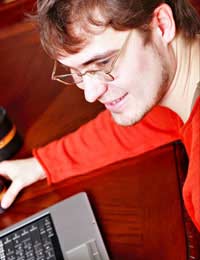 Links
Links are especially important. Link the pages within your own site, if you have five pages or more; that helps. And use keywords for every page, even your index page. You also need to attract links from other sites; make time to send requests to webmasters of other relevant websites. It's wise to avoid direct link exchanges as the real value comes with the number of links to your site, rather than from it.
There are also directories that will happily link to your site, which will help boost your rankings. Simply Google the topic of your book + directories. Now submit your site to as many of them as you can. In fact, you can be creative in the types of directories you submit to - go by country, region, related topics - whatever you can think of.
Now submit your site. There are those who say submitting the site is actually a waste of time, and that with good links, the search engines will find you. However, if you check a few weeks after uploading your site and you're not listed in a search engine, submit your site to be spidered.
If you've done some research on search engine ranking, you'll certainly have come across companies offering to boost your ranking, for a small fee, of course. Search Engine Optimisation is a very big business these days. But is it worth your money? Some will submit your site to hundreds of search engines for a set fee. There are also pay-per-inclusion services. Unless you want to spend a lot of money for something that doesn't even guarantee a high ranking, this probably isn't for you.
Pay Per Click
Pay Per Click and Google Ad Words are widely used online, and there's been plenty of talk about them. But what are they, and how can they help you sell your book online?
With pay per click search engines you register with the engine, and pay a fee every time someone uses one of their links to click through to your site. You bid on key words or phrases, and the person who bids highest gets the highest (and most desirable) ranking. Essentially, it's advertising. So how does spending money actually help you?
Quite simply, you're getting the very best traffic. If your bids are on the keywords that relate directly to your book, then your site is getting highly targeted traffic, which is better than most search engines can offer, and which should translate into higher sales.
How much do you pay? That's dependent on the value of the key words. In general, expect to pay a minimum of five to ten cents (it's in American currency) per click, often quite a bit more, as it's become very popular. That's not a fortune, by any means, but with enough clicks it can certainly mount up. However, in return, you should sell more books, bringing in significantly more income. It's free to register with the pay per click services, and possibly well worth trying.
Google AdWords
Google AdWords are the search engine's own version of pay per click, but significantly different from the other forms. If you've used Google, you'll certainly have seen the "sponsored links" that appear on the right hand side of the page, all related to the item being searched. These are the AdWords, and the advertiser will pay every time someone clicks on their link. The good part, at least for you, is that you don't bid on the key words; instead you pay a set amount, which is easier for you.
Like all pay per clicks, they're very effective advertising. Moreover, registration is very easy, and in less than an hour your campaign can be up and running. But that's only part of the beauty of it. You receive regular updates from Google showing how well each keyword is working. That allows you to make changes and fine-tune to be as effective as possible, meaning you're not wasting money, and making more sales. When you make changes, they're reflected immediately - there's no loss of time.
You're also going to notice another Google product, AdSense. Don't worry about it. For your purposes, it will do you no real good. It means you posting ads on your site that people can click on, and in return, you receive a payment. But you want people to stay on your site, not navigate away.
Articles
In the academic field, the phrase "publish or perish" has long meant that professors have needed to keep writing and publishing in their field to gain advancement. Publishing within your field has long been a way to become acknowledged as an expert.
If you're not already doing it, you should write articles for publications (both online and in print) that cover your field. It's a good way for you to keep abreast with the latest developments - which you should do anyway - and make your mark. But far more than that, it's another avenue for publicising your book. Even if you don't refer to it directly in your articles, the biographical tag at the end should include it. If you're going to market yourself and your work, you can't be shy about your achievements.
If you're not already, become familiar with the journals and blogs that cover your particular area of expertise. Write for them regularly, submit articles, make yourself a presence in these communities. It helps your stature, and can increase the sales of your book.
Make sure your writing is perceptive, and adds something new. If you simply reiterate what's already been said, no one will want to publish it. Original thought is the key. If you can manage that consistently, then you'll find your articles printed. It's possible, too, that if a reporter from the mainstream media needs information on the subject, they'll come to you if you become well-known enough, which can offer good publicity for your book. Additionally, the names of the journals where you publish make an impressive listing for your CV, and also the press releases you send out.
In other words, they're an important part of your marketing strategy, and you really do need to pay attention to it. Working independently, you need to utilise every avenue that's open to you - and writing and submitting articles only costs you time and effort, which you can afford.
One good thought is to add each article to your site as a separate page (linking back to the home page, of course), and linking too, to the site where it was originally published.
Blogs
There's been a lot of talk about blogs, or weblogs, to give them their full name, in recent years. They're essentially online journals, a way for people to post their thoughts on the Web. Some are good and perceptive, but the vast majority are personal and only of interest to the writer and a circle of friends. A few blogs have become iconic, propelling their authors into national and international spotlights (although don't expect that to happen to you).
So what can a blog do for you? Used well and regularly, it can boost your stature within your field and lead to more book sales (which is your ultimate aim, of course). It complements the articles you write, as well as the site for your book.
However, if you're going to commit to a blog, you need to write in it regularly, and your post has to relate to your field for it to be a worthwhile tool to promote your book. If you write about a very dynamic field, that should be quite easy. Where not as much happens, it can prove to be a more difficult task.
Try to blog weekly, if at all possible. Certainly it should be enough to keep readers returning on a regular basis. Of course, if something happens, add a post - there are no restrictions on how many or how often. But like any diary or journal, it has to be quite often or the effect is lost.
Have links to your blog on your site. Not only do you increase your links, which helps your ranking, but you make it easier to find, which is vital. Also, when you publish articles, link to those, and also to the published articles you post on your own site. Comment on the articles, expand on certain points in your blog if you wish.
Blog Software And Hosting
There are plenty of tools and services to help you create and to host your blog; quite often they're one and the same. Some are free, and with others, for hosting at least, you have to pay a small monthly fee (generally less than £3).
What you should look for is something that makes it easy for you to post and upload your blog. Ease of use is extremely important. With some tools you can even post from your phone, although the chances are you'll be doing that rarely, if at all.
With the blogging community, comments by others are part of the ritual, so it should be easy for others to add them. In fact, the more editing tools you have, the better, especially spell check (as you're an author, it would be embarrassing to have typos in there).
RSS, or Really Simple Syndication, is a term that's been bandied about over the last couple of years. You see it a lot in news feeds, where you see the beginning of a story under the headline, then click to read more. If someone subscribes to your blog, receiving it whenever posted, that's what they'll get, rather than the entire post, and they can click to read the full thing. Make sure your blog uses RSS.
One thing you probably won't need is all the extra goodies so many tools offer. You're better off, both for yourself and your readers, by keeping your blog simple, with mostly text and an occasional picture, where it's warranted. Fancy layouts are fine, but if it's a case of style over substance, then it's the substance that should win out every time. Don't be tempted by lots of bells and whistles; you really don't need them.
It's worth looking at a number of blogs and picking up ideas for design and layout. You want something attractive, easy to read, professional but not slick. Searching around should offer you tips.
Blog Hosts
A blog host performs essentially the same service as a web host, getting your blog out there. There are several big players, such as Blogger, Wordpress or Live Journal, and a number of others, many of them not as well known.
With many of them, the tools are there directly for you to blog and upload at the click of a button. But as with web hosting, research to make sure the service is reliable, and that your blog will be there 24 hours a day, 365 days a year, especially if you're paying for the privilege.
Plenty of blog hosts are free, and whilst many of them are very good, remember that you get what you pay for. However, if you're dissatisfied with a service, free or paid, transferring your blog is quite easy these days, and you can move it from one host to another with little or no disruption or fuss. In most case you'll even be able to continue using your current blog creation tool, too, which will simplify your life.
If you're really ambitious, there's one thing you can do, and that's host a blogging service from your own site, and put together your own blogging community, using tools like Bloghoster. Unless you're a bit of a techie it's probably not the best idea, but it can put you at the centre of things, which will help your stature and books sales. Be warned, though, it takes time and effort on your part, so if you can't give those, don't do it.
Finally, there's more to blogging than simply writing your own. Read what others are saying on the same topic, and comment on their blogs, to agree, disagree, or whatever, making sure you link to your own so they can read your opinions and updates.
E Mail Newsletter
One of the most effective tools you can use to market your book is an e-mail newsletter. Given that it's going to people who've signed up on your site to receive it, you're hitting an extremely targeted audience with an interest not only in the topic, but also in your own work, which is about as good as you can hope to find.
They'll read, rather than trash the newsletter, and may even follow up on points you raise there. Don't be afraid to offer sign up links from your blog, as well as possibly publish the newsletter on your site. Everything positive that can bring in more people in is a good thing, after all.
What Goes In The Newsletter
Your blog is a journal, a thoughtful diary. That's fine. But a newsletter is different. Given that people want to read it, you need to make sure every item counts. Feel free to recycle the best parts of your blog, or extracts of articles you've published (always including links to the full piece). It becomes a regular "best of," if you like.
Yet that shouldn't be the only material in there. Each newsletter should contain something new (a 50/50 balance is good), something for readers to get their teeth into. Of course, always check everything, and use spell check!
You can include reviews of products pertinent to your topic, if appropriate, although you don't have to praise everything; it's much better to be honest. In fact it does your reputation much more good to be considered an independent, critical thinker. Nor should you be shy about blatantly advertising your own work. After all, that's the aim behind this. If you're working on another book in the same field, tell people, take orders. Announce when it will be ready, and where people can buy it. Use the newsletter as a kind of small press release.
How To Lay It Out
Although some people like to be fancy and put their newsletters in HTML, there's no need. Write it up in Word, which has all the tools you'll need to make it seem fancy without going overboard. It's worth remembering too, that some people have problems viewing mails in HTML. You don't want it to seem too slick either. Like all e-mails, it's your message to someone else, and should have a more personal feel to it.
It doesn't need to be long, between two and three pages is ample. Any longer, and no one will go through it all. As with any piece of writing, make sure your lead items are ones that will draw people in and make them want to read the entire newsletter. Send it out regularly, every month; an event people can anticipate.
Even though you've probably not given a thought as to when to send it out, try this - e-mail it in the middle of the working day. That's when people are more receptive to reading, having worked all morning and digested the full inboxes that greet them first thing every day.
You might also like...