Chapter 4: Getting Your Book to Market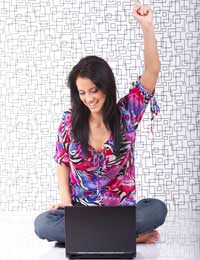 Now you're ready for the good stuff. You've put in a lot of work, and you want to see a return for it. At this point, you have three choices. You can
Sell the book yourself, through a web site
Sell it online through a distributor
Sell it through an e-publisher
Obviously, doing it all yourself is going to bring you the most money and the greatest freedom. It has obvious appeal, but it also has some drawbacks. You're going to have to keep working and pushing to make people aware of your book and create the sales (you'll put in lots of work promoting it anyway).
Payment and Selling It Yourself
One thing you do want is to be paid for your books. How are you going to do that from your own site? There are a couple of alternatives. You can sign up with a merchant service. They'll take a small fee from every transaction, and in return, handle the finances for you. You'll get a nifty shopping cart and checkout on your site, and receive a mail every time someone buys your book. Payment will be transferred through to you, and then you send the download or the CD.
The other method is using Paypal. This has become one of the prime ways to transfer money now, and it's all essentially done by e-mail, but very securely. You'll need to sign up for a merchant account at www.paypal.co.uk, and set up your account, with a buying link on your site. Then when someone wants to buy your book, they click on the link, and if they're a member (many people are, and if they're not, it's free to sign up) they can pay you via Paypal. You'll receive an e-mail notification, then send the book. Your money sits in your Paypal account (again, they take a fee) and when you're ready, you can transfer it into your bank account at no charge.
Either of these methods is fine and easy to set up.
You'll also have to consider taxes. If you have a full-time job, and are writing as a hopefully paying hobby, and you live in the U.K., you'll need to register as self-employed and pay tax on the money you make from your books. Different rules apply in other countries, but you'd do well to become familiar with them - it's better than having the tax man come after you for money!
Download or E-Mail
Which is better - download or e-mail? E-mail is more secure, which gives it a great advantage, since you send it directly to someone after receiving their payment rather than making it available on your site. However, if someone is using a web-based e-mail, such as Hotmail, you might run into problems, as your file might be too large.
If you're making it available for download, one way to protect is give the file a name that's not obvious. Rather than naming it myguide.pdf, call it myguide19202.pdf or something similar, so people can't easily guess it. Change the file name regularly, say every week, so, even if someone circulates the file name (which is possible, although the chances are small), it will only circulate for a few days. If you're a real techie there are other security measures you can take, but for most people that's not an option.
When you've made you e-book, though, back it up, whether onto a CD or an external hard drive, and if you make amendments or newer editions, back those up, too. Why? Well, computer crashes can occur and it's very possible to lose all the data you don't have backed up elsewhere. Back up your master copies in Word, too. For the sake of a few extra seconds, you can save yourself an awful lot of heartache later. If you're not in the habit of backing up important data, you should be; it's worth every moment of time you put into it.
Getting Your Book to Amazon
Selling your book yourself is only one of the options available for you. Consider this - a printed book is available in many different shops, from the big chains to tiny independent operations, or sites like Amazon. There's no reason you shouldn't also have a range of options.
Many retailers sell e-books these days, so you should maximise your opportunities and go for as many of them as possible. It never hurts to start at the top, and in this case it's being on Amazon, the biggest virtual shop window for books in the world. It's perfectly feasible to get there, although you can't do it directly. They use distributors, Lightning Source and Mobipocket (for computer and mobile devices, respectively).
So how do you get there? The first step is to sign up with Lightning Source International at www.lightningsource.com. You should click their New Customer? link and then follow the steps to set up an account, showing yourself as a sole proprietor. The other details are straightforward.
Using Lightning Source
You'll then be asked to choose which Lightning Source services you want to use. There are a number of options, among them direct and wholesale print on demand distribution in the U.S. and the U.K. and e-book distribution. So what exactly do they mean, and which do you want?
With direct POD distribution, Lightning Source stores your book in a print-ready form. This also gives you the option of selling your book in print on your site. You can then buy them from Lightning Source as needed. Simply place your order and the book will be shipped to you or to whomever you specify. Note, however, that with direct distribution you're the only person who can place the order for a print copy. You'll have to pay for the printing, shipping and handling, so bear that in mind in the price you charge for a print copy.
Wholesale POD distribution works very much as you would imagine. Lightning Source makes your book available to retailers, including Amazon. Upon receipt of an order, Lightning Source sends an electronic copy of your book to the retailer, buying it from you at a wholesale price (which, of course, is less than the retail).
It makes sense to avail yourself of all the services you're likely to need, rather than just dipping your toe in the water. Obviously, Lightning Source isn't going to work for you without a contract, and that's the next stage. It's your choice whether to do all the paperwork online or download the contracts to study in depth before posting or faxing back. However you do it, you'll receive completed copies back in your e-mail.
You'll also have to give credit card details, so you can be billed by Lightning Source for the services they render (don't worry, they only charge for work done). Once you've completed that, you need to settle on how to receive payment. There are two options - direct payment to a U.S. bank account, or by cheque. Unless you happen to have a U.S. bank account, the latter is your only choice. Additionally you need to fill out details about your U.S. tax status (unless you live in the U.S. or are an American citizen living abroad, you can claim exemption).
Unfortunately that doesn't complete the registration process. From here you'll still need to activate your account. You'll be sent an e-mail with several attachments which you will have to print out and return, either by fax or post. Only when they're received are you a customer. It can seem very drawn out, but it protects both you and the company.
How to Upload to Lightning Source
Once your account is officially active you can send them your book. Log in at the site, then finally you can click Upload Title. At that point you can choose from a few options. Since your book is in a .PDF file, go with Adobe Reader.
Fill out the general information on your title that's requested, including subject, where you should enter as much relevant metadata as possible. You also have the choice of whether digital rights management should apply.
Next you set the price (it's in US dollars, so check the rates of exchange carefully beforehand), the publication date (if your title page says 2007, set it as 2007), and whether you want a street date for it to be available (something you can leave blank). After this comes the book description. Since this is the blurb that will appear on the sites Lightning Source serves (Amazon is far from being their only client), get it right first time.
Unless there are any legal reasons otherwise, you have the worldwide rights to your book, so select that. That brings you to the final step, choosing Content Types. Check Interior and Marketing Image - which translates as the book and cover artwork, respectively. You may be advised that you have to pay a setup fee.
Make sure too, that your book is available for distribution both in America and Britain. If you're not certain from the paperwork, mail your account manager at Lightning Source requesting that they distribute in both territories, giving prices in both currencies.
Now, at last, you can upload your book and cover art. When it's done you'll receive a mail from Lightning Source containing a link to the proof copy they have. Check it carefully, because this is the copy that will be distributed. Once you're happy with it, give your approval, and your book is ready to go! Wait a few weeks, then check the sites Lightning Source feeds (you can find the names on their site).
Making the Most of Amazon
Amazon is the world's biggest bookseller, and certainly the best forum for making your work available. The thing for you to do is to make it work for you to optimise your sales there. That requires yet more work on your part.
Once your book appears on the site, which can take a few weeks, there are a number of things you can do to improve its sales chances. The first item is to check that all the data is correct. If there are problems, go to the feedback section at the bottom of the page relating to your book, and you'll see Correct Errors And Omissions In This Listing. Open that, giving your User ID and password, and you'll be able to change basic data.
That's far from all you can do, though. There's plenty of content you can add that will fill out the page. Go to www.amazon.co.uk/add-content-books (this applies to the UK site; for the US it's www.amazon.com/exec/obidos/tg/browse/-/13685601/002-7175313-1376023), where you'll be offered the opportunity to insert a description of your book, comments from the publisher and author, your biography, the book's table of contents, back cover and even a short excerpt from the first chapter. Doing all that will give a much more professional presentation.
Getting Your Book Cover on Amazon
Sign up for an FTP (File Transfer Protocol) account with Amazon, by e-mailing ftp-subs@amazon.com.
Using an FTP tool, send your cover to ftp.amazon.com, with the User ID and password they send you.
Make sure you abide by Amazon's specific restrictions, and the file needs to have a specific name, which is the book's ISBN.
When you're connected via FTP, the transfer is simple.
The image should appear in a couple of days. If it hasn't appeared in four days, try again.
You might also like...