Creating Your Website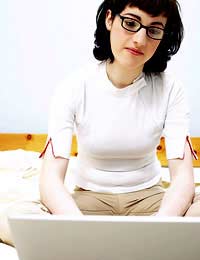 You've finished writing your book and you're ready to publish it yourself. If you think that's all you need to do; stop and think again. It's only the first step. Now you need to let people know it's out there and available.
The best publicity tool you can use is a web site. It stands as a presence for both you, as an author, and your book. You can use it to let people read extracts from your work – a shop window, if you like – tell them about your expertise, and allow customers to purchase your work directly, either as a download or on a CD.
Preparation
We're all so used to surfing from site to site that all too often we don't think about the way they're designed. The more intuitive and easy to use your site, the better the experience for those coming to it, and the greater your chance of selling your work. The old KISS adage – Keep It Simple, Stupid – is a good one.
What are you publicising? Yourself and all your work, or a single book? Think hard about your focus. If it's a specific book, create a site for that. You can link it to a site you have for yourself. Consider what you want on it. You need to:
Tell people about the book.
Let them read an extract from it.
Inform them about your qualifications as a writer.
Let them purchase the book.
The Nuts and Bolts
The first thing you need is a domain name. This is your address on the web. The best one is your book title, and you can easily research whether it's available. Type "domain names" in as a search, and you'll find a host of services, all wanting your business, and allowing you to check whether your desired name has been taken.
You also have your choice of suffixes. Go for either .com or .co.uk, which are the standards for commercial sites. Once you've found an available name for your site, you need to register the domain. A little more searching will help you find the best deal on registration prices – they're a lot cheaper than they used to be.
Now you're ready to physically create your site. If you're familiar with HTML, the language used for web sites, then you're ready to go ahead. Most people, however, aren't, but there's ample site creation software on the market to make the task very straightforward. Of course, you can employ a professional web designer to make your site. But why spend the extra money? It's not rocket science.
The first thing you'll make is the index page. This is your front page, what people see when they arrive at your site. Make it attractive – this is what draws people in. Use the cover graphic from your book, and a brief, glowing description of the book. Think of it as a short sales pitch to intrigue the customers.
Make sure your site is easy to navigate. With the exception of the book extract (which doesn't need to be long – 500 to 1000 words is ample), craft every sentence carefully. You want to convince people to buy your book. Make that act easy for them – have a buying link on every page.
Don't be too wordy. Wherever possible, keep each page "above the fold," so they don't have to scroll down to keep reading – most people simply won't do it.
Purchasing
There are several ways people can buy your book. You can sign up for a merchant account with different services, giving you a checkout. You can also let people pay via PayPal, which is one of the most widely-used services. You'll need to sign up for a merchant account with them, and they keep a small percentage of each transaction (as do all merchant services), but it's very secure and easy to use. Your purchaser will also need to be registered with them, but, in general, that's not a problem. You'll receive an e-mail when someone buys, and can then send them their purchase.
If you're marketing your book in another way your link should take people directly to the page where your book is available.
Check Your Site
Before your upload your site and let it go live, check everything! Proof it carefully, be sure you're happy with the layout, and above all, check that all the links work properly.
Metadata
The metadata, or keywords, are what will help your ranking in the search engines. As such, they're vitally important to your online visibility. Your aim should be to be in the top five listings when the title of your book is typed into Google.
Take your time over meta keywords. Be sure the full title is in there, along with your name, the subjects and concepts covered in the book, the ISBN number, and all important information. Keep your meta description short – no more than 25 words.
Make sure you use your keywords extensively in whatever you write about your book.
Once it's on the Web, your site will be "spidered" by the search engines. The better your metadata, the better your ranking.
Now you're almost ready to upload your site. The next step is to find someone to host it.
You might also like...
Use the prologue to provide backstory. One way to use a prologue is to provide backstory on a character or several characters. A backstory heavy prologue should reveal the origin of the quest or mission in the novel and provide the reader with information about the past that leads up to the present action in the novel. Have the prologue hook the reader into the rest of the novel.
deepu
- 15-May-17 @ 8:39 PM