Making Personal Appearances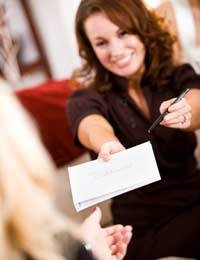 Whilst some people go into the writing profession in search of fame, it is not uncommon for people to end up as writers because they prefer to work by themselves and avoid too much dealing with other people. In either case, making public appearances can present challenges, but it is often a necessary part of promoting your work. Treating it simply as a job, with the focus on practical considerations, will help you to make a good impression and maximise the benefit to your career.
Reasons for Personal Appearances
Some writers never get round to making personal appearances unless nudged by publishers, but this is an area where you can really benefit from being proactive. Getting out there and getting yourself known as a public figure can help you reach a much wider audience, whilst addressing your readers in the flesh will endear you to them, make you seem more approachable, and encourage them to keep buying your work.
With this in mind, you may be ready to leap at any opportunity to make a public appearance, but it's still important to choose carefully. There are two reasons for this. Firstly, you need to keep the focus on your writing and not give the impression that it's all about your ego. Secondly, you need to make sure that your appearances will be well attended. People are a lot less likely to read the work of authors who seem unpopular, and they may even badmouth them on that basis.
The best opportunity to make public appearances arises when you are promoting a major new piece of work, such as a novel, but sometimes you may need to raise your profile at another time in order to keep your name in the minds of readers and publishers. A good way to do this is to make appearances as a speaker on topics related to things you have written.
Presenting Yourself
Many writers make the mistake of approaching public appearances too formally. By and large, readers want to meet the sort of person they associate with the work they have read. This may mean that a suit is not the appropriate thing to wear, and that it can create distance between you and the people you are seeking to engage with.
In many cases it is enough simply to be yourself. The public expect writers to be a bit quirky so you shouldn't be trying too hard to fit in - let your personality show through, as that's what they have come to see. This will help to boost your confidence. In addressing readers you should aim to seem authoritative but respectful and interested in them.
Telling Stories
No matter how many personal appearances you make you will never be able to communicate directly with a really significant number of readers, so you should think not just about the people who attend but about the people they will talk to afterwards. Meeting a favourite writer is an exciting event for most people and if they enthuse about it to their friends then you may gain new readers. This can create a snowball effect.
The best way to ensure you are talked about - ideally on an ongoing basis - is to tell good stories. After all, the one thing you know about your readers is the kind of stories they like. Try to think of some personal anecdotes you can recount for them - things they will enjoy passing on. Aim for things that are funny, a little bit shocking, or refer to well-known public figures.
Telling stories with a personal aspect will endear your readers to you as they feel you are opening up to them. For this reason you shouldn't be nervous if you make little slip-ups or say things you didn't need to. Try to be easy-going about it and be ready to share stories about situations where you made mistakes or felt embarrassed. This can help to make people like you. It doesn't need to undermine your authority on your main subjects.
Panel Discussions
If you're unused to public speaking or not confident that you can attract enough of a crowd on your own, look into opportunities to appear on discussion panels. This gives you an automatic authority and also provides an opportunity for you to make useful contacts with other people in the writing business. You won't need to speak for as long and will have other people you can defer to if you're not sure what to say.
Public appearances become easier the more you do. Your readers will welcome the opportunity to meet you in person and the word of mouth they generate can really help your career.
You might also like...