Writing a Press Release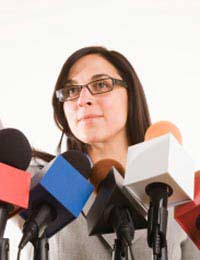 Every organisation that wants publicity, or wants to control what is said about it, needs to issue press releases from time to time. This means that writing press releases can be a great source of subsidiary income for a freelance writer. It's also a useful way to promote your own work, whether you're drawing attention to your latest novel or courting media attention for your small business. So what do you need to know to do it well?
Know Your Target
If you want to write a successful press release, it's important to understand the position of the people who are likely to be reading it. Most independent journalists receive five to fifty press releases per day. Press offices at major publications sometimes receive hundreds. Naturally, it's impossible to process all of these, so those that look unprofessional or don't seem immediately relevant will simply be discarded.
For this reason, it's essential to format your press release properly and proofread it thoroughly. The most important part of it is the headline. A journalist or secretary will usually just skim this before deciding whether or not to read it properly. You need to put the important, relevant words where they will be noticed straight away.
Imagine that you are writing about a company called Joe's Sandwiches that is opening a new café on Main Street. A bad way to present this would be 'Joe's Sandwiches is opening a new café'. The reader may never have heard of the company and there's very little other information there. 'Sandwich company to open new Main Street café' is punchier, gets in useful information about the location, and demonstrates the wider relevance of the story to business publications.
Sometimes it's useful to write multiple press releases for one subject, targeted at different publications. In this case you may change the priority of words in your headline and change the emphasis in your writing overall, to suit different agendas.
Structure
Despite the importance of the headline on a press release, it should take second place, not first. The first thing the reader needs to know is when the press release should come out; this enables piles of press releases to be sorted and prioritised. Most press releases begin with the line 'FOR IMMEDIATE RELEASE' (all in capitals), but if you want the information you're delivering to be published later, you should state the date there, e.g. 'FOR RELEASE 6TH MAY 2011'.
After this line, leave a blank space and write your headline. This should not be in all capitals as they are harder for people to scan quickly. Leave another line after this and then provide the details of the person who should be contacted with any enquiries about the press release. This should include a street or PO box address, a telephone number and an email address. List any relevant website or social media site here too, but try to keep the whole thing under six lines.
After this paragraph, leave another blank line and then write the date when the press release is being issues. After this, and another space, you can write a second headline. This is the place to list names that are relevant but are not already well known. (If any well known names are associated with your story, find a way to get them into the first headline.)
Next should be the main text of your release, with a short paragraph summing up the story followed by further paragraphs that provide detail. Your final line should sum everything up again. Finally, after more space, include a web link that the reader can visit to download pictures relevant to the story. Try to keep the whole of the press release on just one page.
Language
A good press release is easy to read and entertaining. It should usually leave the reader feeling upbeat and positive. The only exception is if you are publicising a story of tragedy or ill-treatment, in which case your aim should be to shock. In either case, it's important to provoke a strong emotional reaction.
Humour in press releases is good, but concise wit is better than actual jokes. Readers must feel that they can trust information provided to be accurate and not part of a wind-up. The tone should be authoritative but not lecturing; try to be engaging. Use short sentences and simple, direct language. If you are talking about non-famous people, provide a bit of information to make them interesting, such as details of unusual hobbies. Always give their ages.
It's good to provide figures and statistical information in press releases, but keep this simple. Remember that the reader may not be an expert in the subject. A good press release can tell a complete beginner all they need to know to report on your story.
You might also like...