Writing Within a Deadline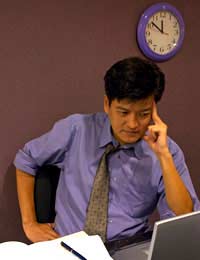 "I work best under pressure."
It's a common comment heard around the world from the mouths of writers who slip their works in just before a deadline has passed. While those authors might be comfortable with their decisions to finish jobs just in time, their editors are often not so pleased. After all, if a writer turns in a piece even a little late and it needs to be rewritten or greatly edited, there could be major problems getting it into publication.
When you have a deadline to meet, it's better to allot yourself plenty of time to work on your article, story, or chapter. By waiting until the last minute to put everything together, you're simply gambling with your writing because you cannot plan for emergencies that might come up. You're also jeopardizing your reputation as a professional, prompt, reliable journalist or novelist.
Below are a few simple ideas to help you complete your works within a given deadline without compromising your integrity or your relationship with editors.
Write Right Now
Your 1,500-word feature article deadline is two weeks away? That's no reason to wait to put your pen to paper or set your fingers free on the keyboard, especially if your piece involves interviews (we all know how difficult it can be to find a mutually acceptable time to discuss a topic.) Start today by writing a few paragraphs, putting a working title together, or composing an outline for the piece, and add bits and pieces here and there. Don't wait until the final hour to put everything together.
Make Timelines Your Best Friends
If you're a professional writer but you don't have any way of organizing your calendar, it's time to start. By setting mini-deadlines (such as that all interviews have to be finished by this Friday, a rough draft of the piece has to be completed by Monday, et cetera), your big deadline won't sneak up on you.
Timelines will ensure that you are aware of your accomplishments every day or week; thus, you can chart your progress as you work on your articles bit by bit.
Plan for the Unexpected
Is your deadline the 20th? Then you should give yourself until the 18th to finish the job; thus, if you turn it in two days early, your editor will be thrilled. And if an emergency comes up and you wind up a day or two behind in your writing, you'll still be able to meet your deadline.
Stop Asking for Extensions
Make a pact with yourself - no more asking for extensions except in extremely rare cases. Vow to never request an extended deadline unless you truly need it. Too many writers accept more work than they can accomplish, then rely on extensions to get everything done. If you do this often enough, you'll be known less for your writing and more for your habitual procrastination.
You can even give yourself a strict limit on the number of extensions you are "allowed" to ask for in a given time period, such as a calendar year. That way, you'll only ask for extensions when you really need them, such as when a bout of influenza leaves you aching or a family member requires your attention.
Say No to Some Jobs
If you find yourself always missing deadlines or just barely meeting them, it might be time to rethink the amount of work you can complete. It's tough to say no to a writing job, and some writers simply will never be able to turn down work. However, in the long run, it's more important to keep up the quality of your writing and your reputation than it is to write yourself into a hole from which you cannot escape.
Allow yourself to say "no" sometimes; it's not lunacy, it's good business sense. And you'll be protecting your credibility as a top-notch writer whom editors and readers can trust.
You might also like...