Website Hosting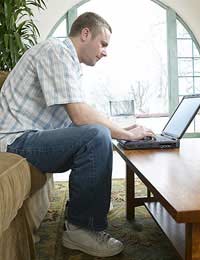 You have your e-book complete and ready to go. You've made your web site. The next step is to get that site up on the Web so people can read about and buy your book.
To do that your site needs to be hosted. The host is responsible for putting your site into cyberspace and keeping it there, 24 hours a day, 365 days a year. A quick Google search of web site hosts will reveal literally thousands of companies clamouring to have your business. You can even find some that will offer to host for free.
What to Look For
There are several things you need to consider when searching for a site host. Perhaps the most important is reliability – the last thing you want is a host that's often out of commission. That's robbing you of possible sales, and the chances are those customers will never return. Don't be afraid to ask a potential host about its downtime statistics. Tech support is also extremely important – if they're reputable, it should be 24/7 – as is the ability to give you multiple e-mail accounts (info@yourdomain.com, for instance). Check, too, on how to upload your site. It's generally an easy process, using FTP (file transfer protocol), which might sound complex, but usually isn't.
Pay attention to the amount of server space you buy. Unless you've gone overboard on your site, you won't need a great deal (assuming you're sending your e-book separately after payment), but ensure it's enough. You can add more later, if you need it, but with just a few pages to your site, don't pay for more than you need; that's simply throwing money away.
Bandwidth is another vital factor – that's particularly true if you're offering your book as a direct download from your site (in which case you'll also need more server space). Bandwidth is, essentially, data transfer to and from your site, and you need to make sure you have enough of it built into your hosting package; otherwise you'll end up paying a great deal more. You should initially be fine with between five and ten gigabytes. If you're selling more downloads, then talk to the host and increase the amount. If you don't have enough bandwidth and people are downloading your book, it can create problems, and angry, dissatisfied customers.
Although it's generally not a problem these days, be certain that your host can run the CGI scripts you have on your site for feedback, further contact, affiliate programmes and so on.
You might not think of it at the start, but it's also important to have access to good site statistics. This lets you see how many "hits" your site is receiving, what pages people are accessing, how long they stay – all the activity on your site. Good ones will even tell you the number of unique visitors you get. An excellent host should be able to supply there (you can access them at any time), although there are other companies that can compile them for you. Look at your stats regularly. They can give you an insight into what people want, and help you refine your site to increase its appeal – and sales.
Free vs. Pay
There are free hosts, and if you're on a very tight budget, they can offer some advantages. However, there are drawbacks, such as the banner ads displayed on your site, or quite possibly Google ad words.
Obviously, if you're not paying, you have limited control, and you'll find that the bandwidth for your site is severely limited, as is the server space. The other big disadvantage is that it appears unprofessional. If you're not willing to pay, why should any potential customer take you seriously?
You're much better taking the plunge and paying for hosting. These days, with all the competition, you can find some excellent deals that will hardly make a dent in your wallet. Remember the old saying that you have to spend money to make money. A small outlay can bring great returns.
You might also like...
will there be?and/or how much editing done to my efforts?Also, are there timelines?Have some shorts, done; and a novel started?What counsel do you offer?What questions of me do you have? Will B.
will
- 11-Oct-13 @ 1:43 PM
With self-publishing through Amazon, all this has changed. It's easy to do, you can set the price and split the profits with Amazon, so it can be a win-win situation. What's worth remembering is that very few people make real money from their ebooks. Forget the stories about people who sell millions of copies. The average person makes about £350 a year, and that's if they really work at it. But if it's what you want to do, then the money won't matter as much as the writing and publishing.
Chris N
- 5-Jul-12 @ 6:14 AM