How to Improve as a Writer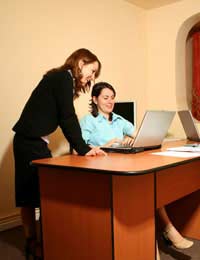 Want to become a better writer? Try these five tried and true techniques to ensure that you get better day by day.
1. Write, Write, and Write Some More
Like an athlete, the way to get better as a writer is to practice. However, the muscle you need to exercise is your brain, not your quadriceps or triceps.
If you desire to feel more confident writing and reach a higher level, you'll need to write a little something every day. Even if you're just jotting down observations each night before you go to bed or blogging in the morning about a political event, you'll be working your mind.
Over time, your writing will flow more easily. You'll also start to develop a more specific style and tone to your work that couldn't occur if you were writing less frequently. Remember that the more you do something, the more proficient you tend to get, and writing is no exception to that rule.
2. Read Whenever You Can
If you have a few spare minutes, pick up a newspaper or magazine and read an article, be it short or long. Read a book to your child. Or read through that dusty poetry book that someone gave you when you were going off to university. Read the packages in the grocery store. Read a chapter of a trashy romance novel. Read anything, because you need to read to become better at writing.
Why? Simple. The more you read, the more styles you'll encounter. You'll also find different words and phrases peppering the items you read (keep a dictionary handy.) Soon, you'll start incorporating what you read into what you write. You'll find yourself mimicking cadences that you enjoyed or using new vocabulary words that moved you.
3. Ask For Opinions
Friends, family, colleagues, and editors can be great sources of truthful feedback for any writer who wants to get better. Send off some of your recent clips and ask for honest responses - you might even want to develop a questionnaire so your critics have specific guidelines to follow.
One caveat - make sure you're open to hearing the "bad stuff" as well as the praise. Sometimes, writers work in a vacuum and forget that they, like everyone else, have weak areas. Accept that you'll hear some critiques that may sting but will help you improve.
Then, take all the feedback, both positive and negative, that you gleaned from this experiment and use it to make your writing stronger. Do this exercise every few months or even once a year, and your writing will start to get stronger.
4. Try Something New
Are you accustomed to writing poetry? Then try putting together a rollicking children's tale. Are you mainly a journalist who uses an inverted pyramid style of reporting? Try writing a piece in a narrative journalism voice instead.
The point of this technique is to push you out of your comfort zone by making you write something you're not used to tackling. Your brain will be forced to think in new ways, and you might find yourself dusting off some cobwebs on the old gray matter.
5. Edit Something For Someone Else
If you offer to edit an article, chapter, or novel for someone else, it can help you become a better writer. You'll start to see habits that you might recognise as your own when you objectively look over something someone else has written.
Additionally, by editing someone else's writing, you'll be improving your skills as a self-editor. Then, the next time you analytically read your own articles or chapters, you'll be in a better place to do an adequate job of tightening your prose.
Above all else, though, make a pledge with yourself to keep growing and learning as a writer. You'll never regret taking these small steps to reap huge rewards.
You might also like...