Writer's Block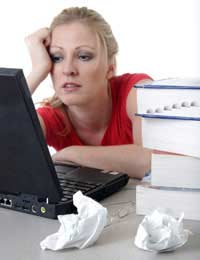 You know the symptoms - mushy brain, unmoving pen, loss of motivation… they can only mean one thing. Writer's block.
Sooner or later, you're bound to encounter this nemesis of the working author. But take heart; it isn't permanent, and it is reversible. Here are some methods to uncork the ideas that seem to be deeply locked inside you.
Write Something… Anything
One of the best cures for a stubborn case of writer's block is to simply write about anything at all. (You can even write about the experience of writer's block.) The point of this exercise is to get your mind in gear again; after all, the laws of physics state that a body in motion tends to want to stay in motion. So get your thoughts moving and you'll break free from whatever is holding you back.
Do Something Else
If you've been sitting at your computer for half the day and either surfing the Internet mindlessly (as a diversion from your writer's block) or staring at a blank screen, you need a change of pace. Get up, walk around, or make a phone call. If you're in an office setting, strike up a conversation with a coworker who isn't busy (or who is also suffering from writer's block.) If you're at home, do some laundry or make a sandwich. Just be sure to remove yourself from your writing desk in order to clear your head.
Work on Another Assignment
Sometimes, your case of writer's block may actually be assignment-specific. Hence, if you turn to a different article, essay, or novel on which you're working, you may be able to start those creative juices flowing again. Writer's block can be sneaky in this way; though you cannot seem to start one project, you can dash off another without any difficulty.
Put All Writing Aside for a Time
If you have a lot going on in your life - your children are sick, your dog is a filthy mess, and your sink is leaking - you might be better off putting your writing on the proverbial backburner. Instead of working on your journalistic endeavors, settle the other troublesome spots of your life. Then, you can return to your writings with fewer worries to hinder you.
Push though Your Blockage
Are you a type "A" personality? If so, you may be better off forcing your way through your writer's block. By fighting back against your impasse, you could eventually break a hole in the obstacle that's keeping you from putting pen to paper (or fingers to keyboard.) Of course, this takes determination and a stubborn temperament, but if you have those characteristics, this might be your best solution.
Get Some Exercise
A sluggish brain can be forced into action by some physical fitness. Even a short 10-minute brisk walk can clear a cloudy mind and release the innovation and motivation you need to finish (or even begin) your manuscript. If you're more athletic, try jogging, cycling, or weight lifting; you'll return to your desk ready for action and toned to boot!
In the end, it's imperative that you never give in to writer's block. Yes, it can seem like it's going to last forever, but if you're focused on getting past this stumbling block, you'll soon find yourself writing with aplomb.
You might also like...