Brainstorming Methods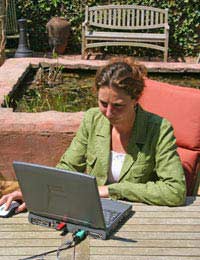 Like your body, your mind deserves to get some exercise, too. Without occasional spurts of mental gymnastics, all that gray matter becomes complacent; thus, when you sit down to write, your words come out as dull as a butter knife.
If your writing has taken a turn toward mushy oatmeal, it's time to do some brainstorming exercises that will get your mind hopping and your blood pumping. Below are three of our favourites:
How Can I Describe Thee? Let Me Count The Ways…
Your first brainstorming game forces your mind to cull all that vocabulary and those wacky ideas you've built up over decades. Start by picking out an object that's near you - in this case, let's say a chair. Then, grab a pen and paper or sit down at your computer or laptop and try to describe the chair in ten different sentences.
It's harder than it sounds; however, it encourages you to think "outside of the box". For instance, consider the chair:
This is a brown chair with four legs and no arms

This chair was purchased for £50 at a flea market by my parents.

This is really a shelter for our calico cat; below, the kitty can safely sit and above she can stretch on the padded seat.

This is a plaything for a child - by climbing to the upper level, he has mastered motor skills and balance.

If lions come into your house, you can use this as a "tamer"!
As you can see, the descriptions start out as plain sentences, but soon turn imaginative out of sheer necessity. This type of brainstorming stimulates the intellect, therefore freeing it from the ennui of everyday life and writing.
Blah, Blah, Blah
There is nothing stranger than sitting down at your desk and finding you have nothing to say. You feel as if every idea has finally been told. You're ready to throw in the towel. But before you go that far, try a little freeform writing.
Literally set a timer for anywhere from three to five minutes and begin to write. Just put down onto paper or your computer monitor exactly what is going through your mind. This isn't something that anyone else will ever see, so be frank.
Though you might assume your gobbly-gook is without meaning, it is truly serving a purpose. When the timed exercise is over and you can stop writing, you'll feel "warmed up". And you might even discover that during this brainstorming exercise you uncovered the kernel of a New Story.
Get Out!
The final brainstorming game involves removing yourself physically from your house or the office. Pick up a notepad and go to a new place, such as a restaurant, park, shopping centre, or even your garden.
The object of this game is to describe what you're seeing and feeling. Observe the people and animals that pass you by. Really concentrate on being "in the moment" and not thinking about deadlines, dinner, cleaning, or any other extraneous things.
Jot down images or scenes that move or interest you for at least a half hour. You might end up with pages of notes; or you might only have a few sentences. Regardless, the point is that you gave your mind a break; you allowed your eyes, ears, and nose to take some of the burden off your overworked brain.
Just remember that you need to exercise your brain just as much as any muscle in your body. By forcing yourself into new, thought-provoking situations, you'll become a better writer, something which your readers will greatly appreciate!
You might also like...